Phoenix Water Heater Installation and Repair
When looking for Phoenix water heater installation and repair, you want to be assured of good, honest, knowledgeable, and timely service. At American Home Water and Air, that's our specialty!
We provide top-notch service for all things water heater-related, including water repair and installation. The peace of mind our technicians provide has made us the go-to choice for more than 50,000 customers over the last 35+ years.
About Our Water Heater Services in Phoenix, AZ
Water Heater Replacement in phoenix
Is your existing water heater on its last legs? Our technicians will remove the faulty unit, help you select the right water heater replacement in Phoenix, then install it professionally.
phoenix water heater installation
Looking to install a new water heater from scratch? We've got you covered! Choose from highly-rated units from Bradford White and other top brands.
water heater repair in phoenix, Arizona
Having trouble with your existing water heater? Our water heater repair technicians are experts at pinpointing problems and solving them promptly. You're in good hands.
Hydrojet® Total Performance System
The Hydrojet® Total Performance System is a cold-water inlet tube. Its special design allows for reduced sediment buildup and a more thorough mix of stored and incoming water in Phoenix gas-fired water heaters.
This reduces the risk of extreme temperature differences within the water heater tank, which saves you money on your energy bill and ensures your water heater (which we attach this unit to) doesn't need to work as hard. 
Commercial Hydrojet® Sediment Reduction System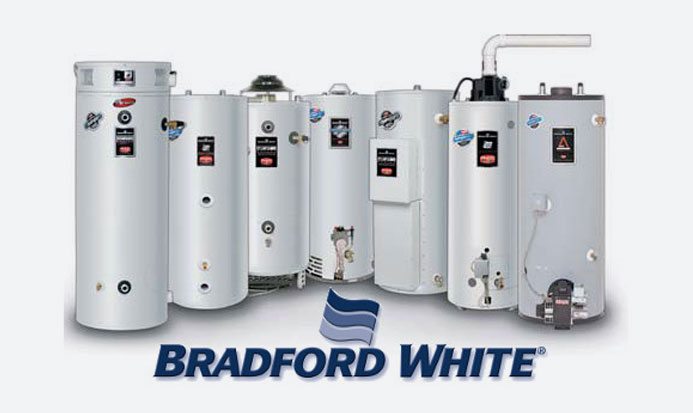 The Hydrojet® Sediment Reduction System is a variant of the the original Hydrojet system. It contains enhancements that block the build-up of sediment that can destroy Phoenix gas-fired water heaters. This makes it an essential component of water heater installation in Phoenix, which has particularly hard water filled with sediments. 
The commercial system uses two inlet tubes.
Bradford White ICON System® Intelligent Control
An industry-leading Phoenix hot water heater, made even better
The ICON System ® incorporates improved diagnostic and performance functionality that one would expect from Bradford White, a leading brand of Phoenix gas-fired water heaters.
Durable Design
A four-screw design offers a durable cover mounting, protecting the unit during installation. The unit also includes a large adjustment knob and reinforced internal connections.
Improved LED Indicator Light 
The improved system includes a multicolored LED light that is easy to see even when you're standing up. This helps our staff conduct more efficient troubleshooting should you need a water heater repair service in Phoenix.
Advanced Temperature Control 
A microprocessor controls burner operation, ensuring consistency and pinpoint-accuracy temperature readings. Aiding this microprocessor is proprietary software.
Millivolt
The ICON System ® also incorporates a thermopile that operates without the need for external electricity.
Integrated Igniter
An integrated igniter improves serviceability by negating the need for an open combustion chamber for lighting the pilot.
Universal Design
If you have an existing Bradford White water heater, you'll be pleased to know that the Bradford White ICON System ® can be vertically integrated onto many older models.
Water Heater Service FAQs
How do you drain a water heater?
Knowing how to drain a water heater is important since many manufacturers recommend doing it at least once a year or as issues arise. Get a garden hose section at least three feet in length. It will need to have a fitting capable of attaching to the drain valve at the bottom of your water heater.
Once you have the hose (and a bucket to place the other end of it in), follow these steps:
extinguish the water heater pilot light by disconnecting your heater's gas (or simply unplug the heater if it's electric)

disconnect the heater's water supply

attach the hose, fitting end first, to the drain valve and open the valve

let the water drain out (empty the bucket as needed to prevent overflowing)

once you've drained the tank by the desired amount, reactivate the water supply

once the tank is full, either relight the gas or plug the heater back in
How long does a hot water heater last?
You shouldn't have any major issues with your water heater for the first 10 years of its life. Around the 10-year mark, things may start to go wrong and most heaters will be in serious need of replacement by the 12-year mark. 
How does a water heater work?
A gas water heater, as the name would suggest, heats the cold water inside it through the use of a gas burner. The gas created during this process is extremely hot and toxic, which is why a chimney carries it outside after it has done its job of heating the water in the tank. Electric water heaters instead use electrical elements to heat the water. Both types of heaters usually have a thermostat allowing you to control just how hot the water gets.
How long does it take to install a water heater?
It usually takes our water heater service professionals no more than an hour and a half to install a new water heater. If we also need to remove and dispose of the old one, the process may take around three hours in total.
Why is my hot water heater leaking?
There are many possible explanations for a leaking water heater. Given how important a water heater is — and how dangerous it can be to tamper with, given the water pressure and dangerous gas inside — we recommend contacting a professional to diagnose the issue.
It can be as simple as a leak sprung within your drain line or other plumbing connected to the softener but it could also be the result of an internal tank leak, which is common in older units that have deteriorated.
We also provide services in these cities