Hybrid Electric Water Heater in Phoenix, Arizona
Hybrid water heaters have been gaining popularity in recent years among homeowners seeking energy-saving solutions and reduced utility costs.  Both the positive environmental impact of converting from gas to electric and the benefit of reduced electric consumption (savings) is driving this interest.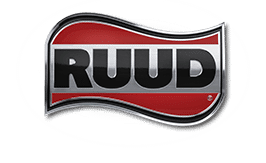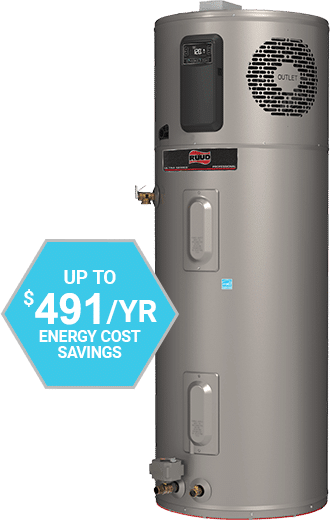 The Benefits of Using a Ruud Hybrid Electric Water Heater

Hybrid water heaters have been gaining popularity in recent years among homeowners seeking
energy-saving solutions
and
reduced utility costs
.  Both the positive environmental impact of converting from gas to electric and the benefit of reduced electric consumption (savings) is driving this interest. 
Experience cost-effective performance with the advanced Ruud® Ultra™ Hybrid Electric Water Heater. Enjoy immediate savings through federal tax credits and utility rebates of up to $1,000, along with ongoing annual energy cost savings of up to $4,912.

Compared to traditional options, hybrid water heaters offer distinct advantages that make them an appealing choice for those concerned with responsible energy consumption. These innovative systems help conserve resources while enhancing comfort and convenience.
By far the best model on the market today is the Ruud Ultra Plug-in Heat Pump Water Heater. This Energy Star-rated unit is one of the most efficient heaters available, being up to 4 times more efficient than a standard unit.
This blog post will go over what you need to know about these innovative models, as well as the numerous benefits of owning one.
What is a hybrid water heater?
A hybrid water heater is a unique type of system that combines the strengths of both storage tank and tankless systems. It utilizes an energy-efficient heat pump to draw warmth from the surrounding air, which is then used to warm up the water stored in its tank. This combination of technologies allows for more consistency in temperature while reducing overall energy costs.
Homes usually require about 1,000 cubic feet of space for this unit to function properly.
Why homeowners should opt for the Ruud Ultra Plug-in Heat Pump Water Heater
So you may be wondering: why this unit specifically? Homeowners benefit in many ways from owning a Ruud model. Here are just a few advantages:
Saves Money (in the long run and with tax credits)
With the Ruud Ultra Plug-in Heat Pump, you can save up to $372 each year (50 Gallon Model) in reduced electrical costs. Over time, this accumulates to thousands of dollars saved—almost $5,000 over 10 years!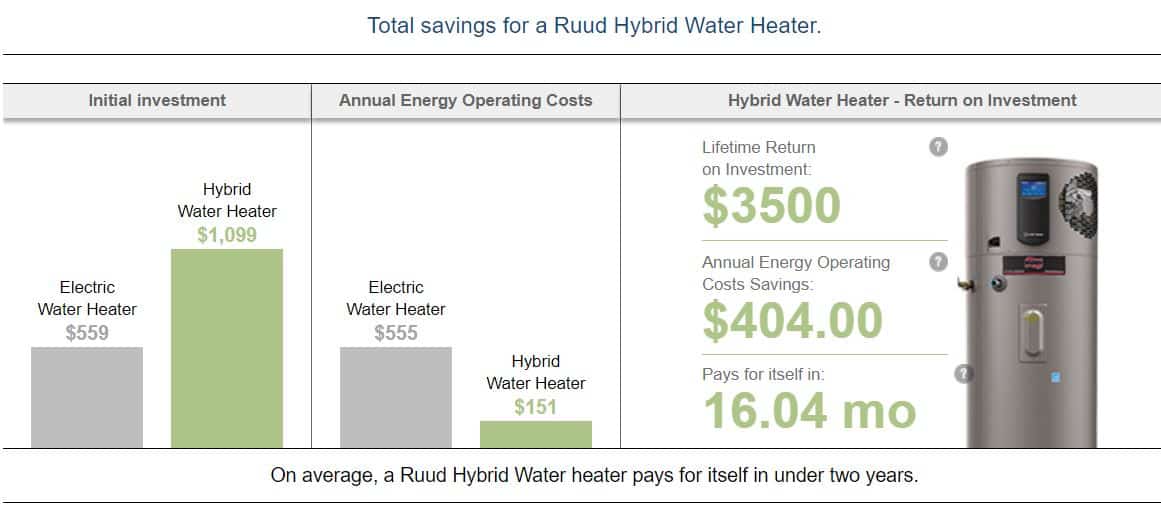 Hybrid water heaters in general are a great way to save money in the long run, as they lower electricity costs. The pump component allows it to use less energy than a traditional model, resulting in lower monthly electric bills.
What's more, the government offers tax incentives for purchasing higher-efficiency equipment and Energy Star-certified models, which can help you recoup your initial investment.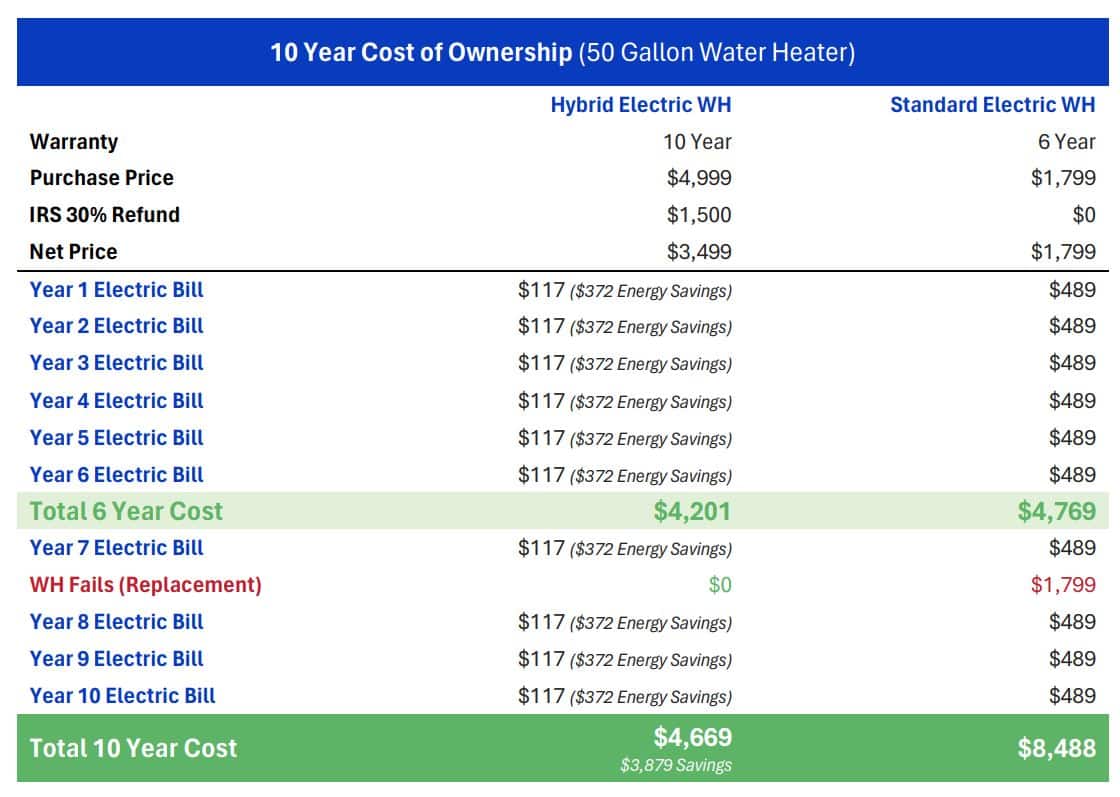 Ruud in particular allows homeowners to save right away, with up to $2,000 worth of federal tax credits and local utility rebates.
Lasts Longer and Easy to Service
Compared to traditional gas models, hybrid water heaters are built to last longer. With proper maintenance (flushing the tank each year) and upkeep, owners can expect their system to last up to two decades. This makes them a great long-term investment that pays for itself.  It's also why RUUD provides a 10 Year Warranty (versus other manufacturers at 6 Year). These units are built to last.  
The Ruud Ultra Plug-in Heat Pump takes it a step further, as it's been designed to make maintenance easy. The condensate line and all serviceable parts are located at the front of the unit for easy access. What's more, the unit is WIFI capable and can be connected to an app for detailed alerts and control. A key feature is a leak detection system with a built in kill switch that automatically switches it off to avoid property damage and sends an alert.  
This quality design provides homeowners with the peace of mind that their investment will be safe in case anything goes wrong. You and your family can enjoy the convenience of hot water without having to worry about additional costs or down sides of traditional water heaters.
Environmentally Friendly
Aside from the cost savings, hybrid water heaters also provide significant environmental advantages.  For instance, it's the quietest hybrid on the market emitting only 49 dBA of sound into your home. Which is considered quiet and the equivalent of a whisper.  
Then by consuming less energy, these systems emit fewer greenhouse gasses. For example, Ruud's Ultra Plug-in Heat Pump uses 75% less energy. With this reduction in energy use, you can feel good knowing you're doing your part to help the environment and mitigate climate change. And saving you money.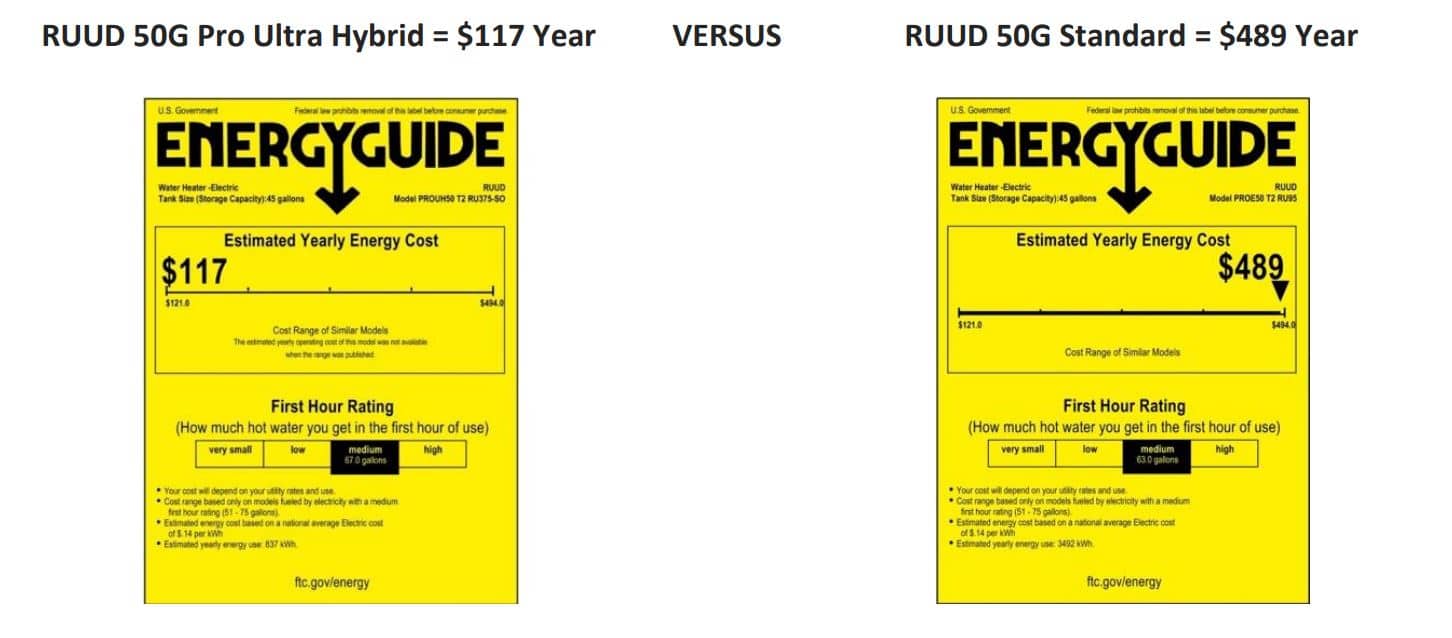 Most Ruud models also use eco-friendly refrigerants.
Plus, since their units last longer than standard models, you'll need to replace them less often. This further reduces your home's environmental footprint and helps conserve valuable resources.
Customizable Modes to Support Your Water Usage 
Hybrid water heaters typically come equipped with customizable control panels that offer a wide range of modes.
Ruud's Ultra Plug-in Heat Pump is no exception, coming in 5 different modes: Energy Saver, Heat Pump, Electric, High Demand, and Vacation.
For those who prioritize energy conservation and saving money on their monthly bills, the Energy Saver mode can be a game-changer. By solely utilizing the heat pump, this setting eliminates the need for the electric element altogether. 
Programmable energy-saving scheduling allows the unit to match demand throughout the day, adjusting to high-use times like mornings and lower production periods when no one is typically home.
Or if you find yourself away from home for the weekend or an extended period, you can manually activate Vacation mode to ensure zero energy waste right from your phone's Ruud EcoNet app. This smart mode ensures that the tank remains unheated when not in use, resulting in cost savings.
Smart Features
Along with easy-to-use controls and a one-button startup, this unit also offers plenty of smart features.
The most notable is built-in Wi-Fi. With this, homeowners can track energy usage (and access weekly, monthly, and yearly reports to oversee consumption), adjust water temperatures, and change modes directly from their phones.
The unit also has smart leak detection and prevention features to protect your home from damage and limit leaks to no more than 20 oz. It does so through an auto water shut-off valve and a built-in 360-degree leak detection cable. Homeowners will be alerted on their phones when a leak is detected.
Saves Space
Homeowners who want an efficient unit without having to sacrifice space will enjoy the fact that the Ultra Plug-in Heat Pump has the same dimensions as a standard electric water heater. A zero-side clearance requirement means it takes up very little space—it can even fit in closets!
Need a hybrid water heater installed? Choose American Home Water & Air
Needless to say, hybrid water heaters are an excellent choice for homeowners looking to save money and energy in the long run.
If you live in the Phoenix, Arizona area and need help with switching to a hybrid system, American Home Water & Air is the best local plumbing business to help. We provide a comprehensive suite of services for all your needs, from installation to repair to maintenance of your system.
Our commitment to ensuring quality service at a reasonable price makes us one of the leading residential contractors in Arizona.
So if you're in the market for a new model installation, look no further than us. With American, you can have peace of mind knowing that your home will be in good hands. We're just one telephone call or form fill away. Contact us today!