AC Installation and Replacement Services in Phoenix, Arizona
Get Your HVAC Unit Installed Today by One of the Best Air Conditioning Companies in Phoenix!
At American Home Water and Air, we offer air conditioning system installation and replacement services,  in Phoenix, AZ to suit every budget. We strive to provide transparent pricing to all our customers. Try our HVAC cost calculator and find out the price for your desired HVAC unit here.

About Our AC Installation & Replacement in Phoenix, AZ
Looking for AC installation in Phoenix, AZ? At American Home Water and Air, we carry and install high-quality units from Trane and Samsung. We can also help you secure 0% financing with Greensky and any special promotions you may qualify for on new air conditioners.
Our air conditioning system replacement services combine skill and competitive pricing. We've been providing air conditioning installation and replacement in Phoenix, AZ for more than 35 years. In that time, 50,000+ customers have come to trust our advice when it comes to selecting the right air conditioners along with our unparalleled service on installation day. Come see why more than 3,000 customers have left us five-star reviews on Yelp, Google, and Angie's List!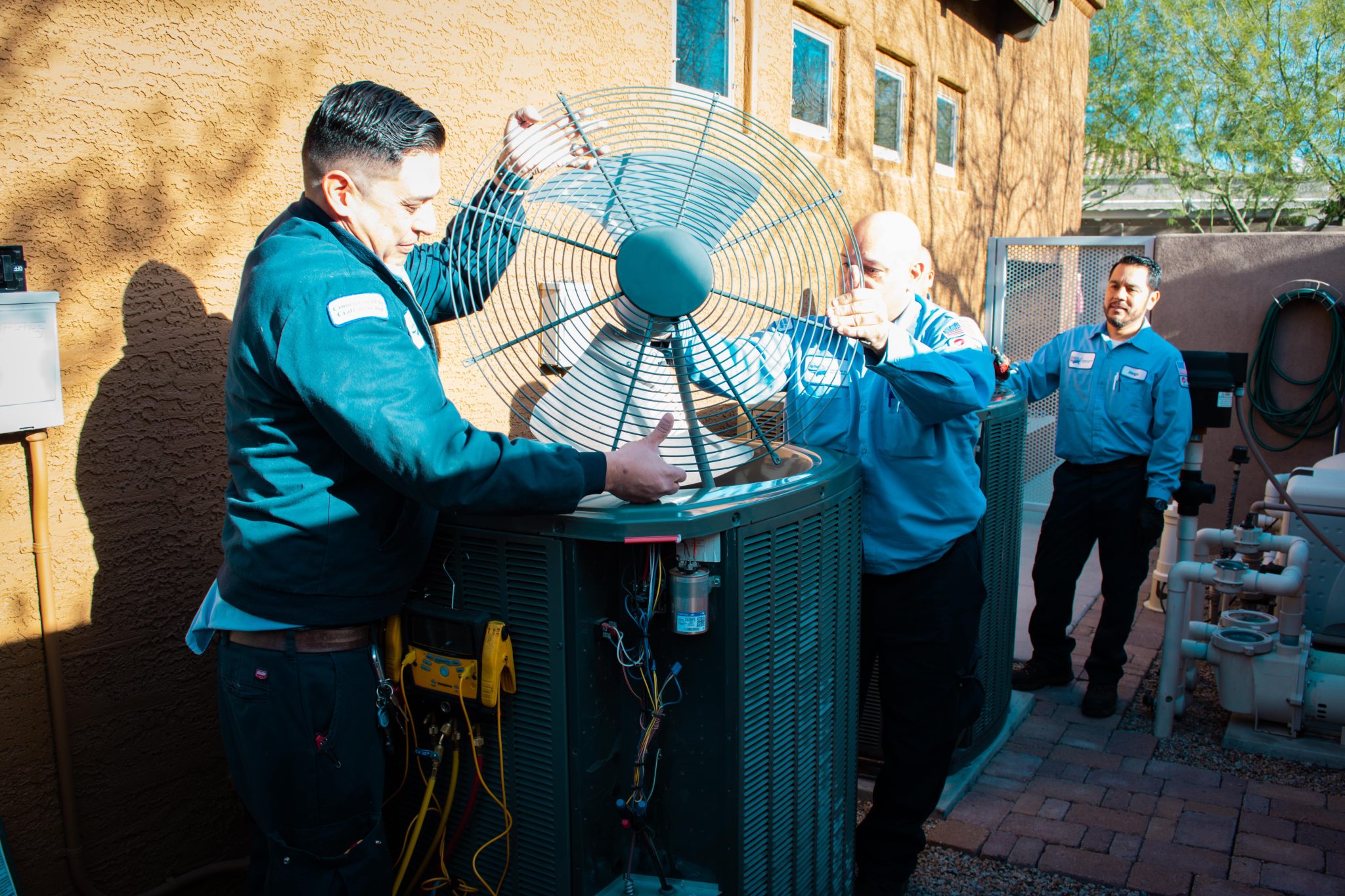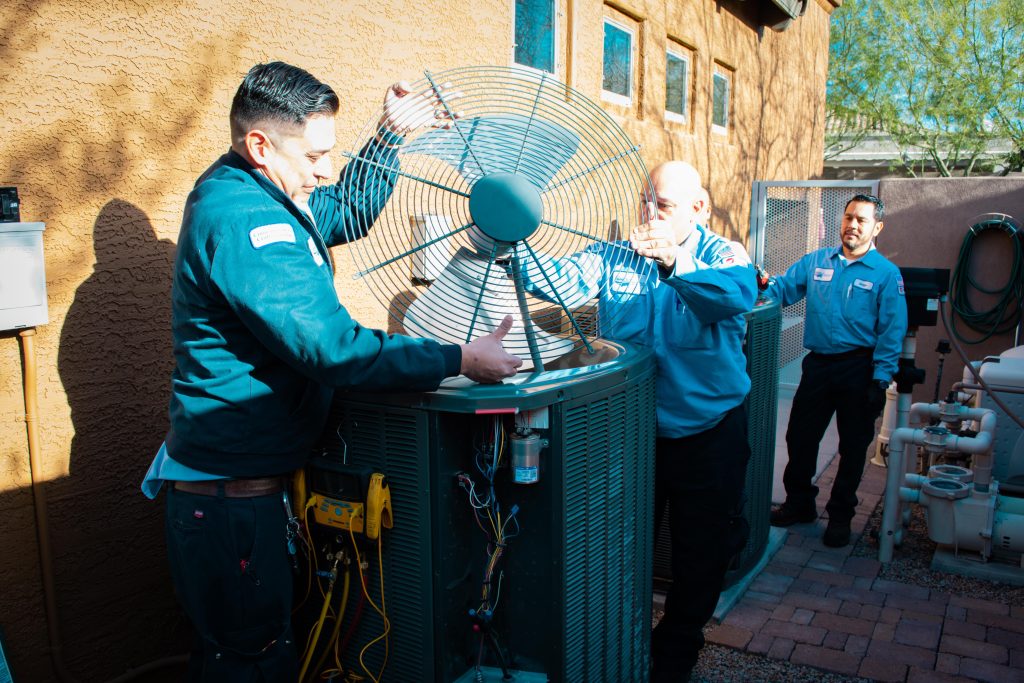 The American Home Water and Air AC Installation Process
1. Receive your free in-home consultation
After you get in touch with us, an experienced technician will help you determine the right air conditioner for your needs and budget, then provide a no-obligation quote.
2. Schedule your AC installation appointment
Once you're ready to proceed, our technicians will schedule an air conditioning installation appointment. We're ready to install your new air conditioner in as little as 24 hours!
3. We install new AC, right on time
On the day of air conditioning installation, your American Home Water and Air technician will give you a call when they're nearby. Upon arrival, they'll take proper COVID-19 safety precautions, including wearing a mask and remaining socially distanced. As part of the installation service, your technician will show you the best practices for operating your air conditioner and keeping it in good working order.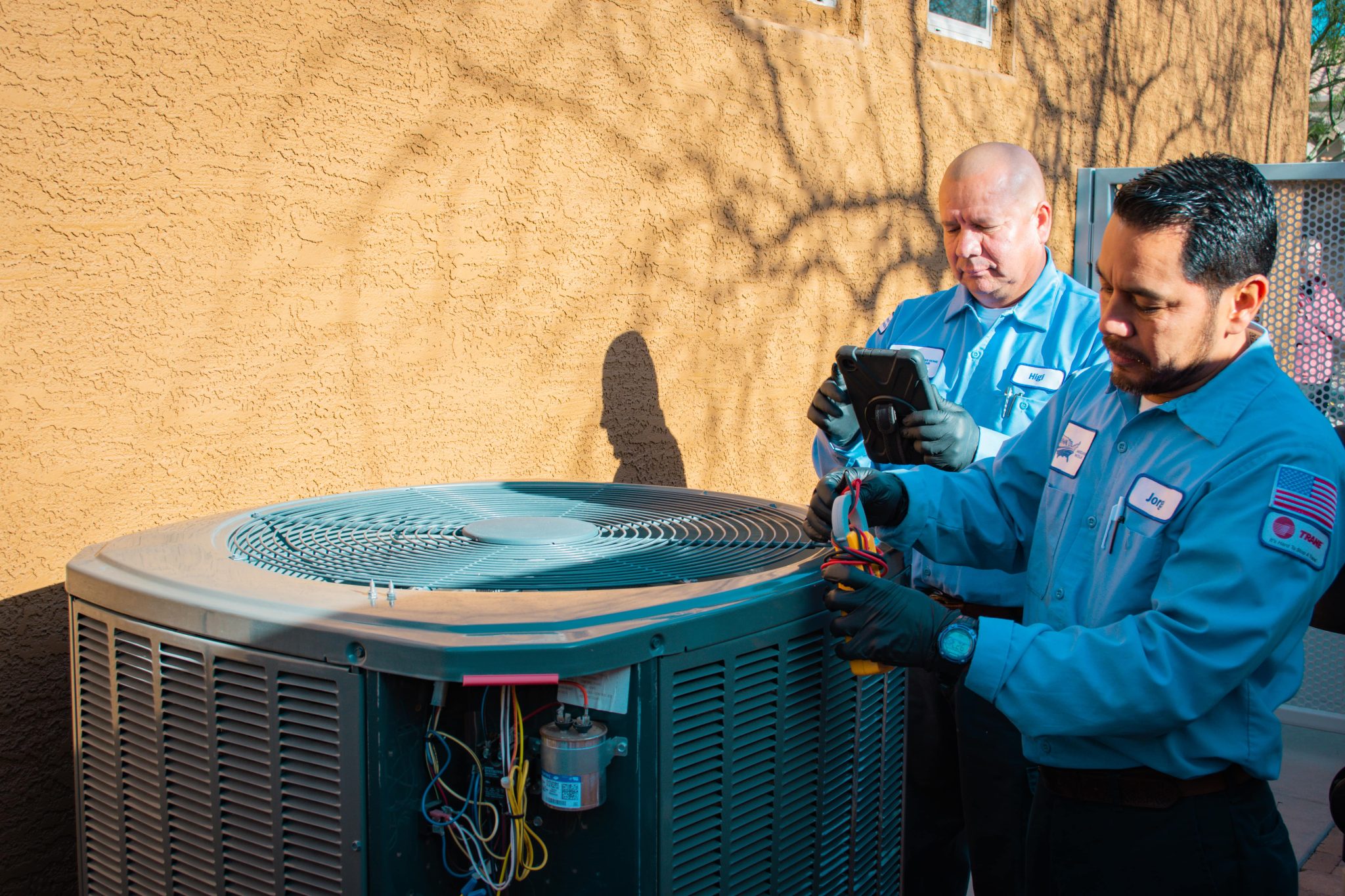 4. We welcome your feedback
We strive to deliver quality service on every single call. As such, your feedback is essential! If there's anything you feel we could improve on, let us know. We'll take it to heart and ensure you receive the level of service you expect.
How much does a new AC unit cost in AZ?
Interested in pricing for our AC units? Check out our HVAC calculator to get an instant quote. You will be able to find out how much does it cost to install air conditioning in a 1000, 1500 or 2000 sq ft house in Arizona.
Signs You Need New AC Installation in Phoenix, AZ
Not sure whether it's time for an AC system replacement? Here are a few telltale signs!
1. Your air conditioning system is 10 years or older
In Phoenix, with its characteristically extreme summers, air conditioners tend to last roughly 10 years, after which you'll notice issues become more common and your electricity bills start to rise. The longer you stretch past this point, the more likely you are to experience sudden air conditioning failure. Don't let this happen! Contact American Home Water and Air to arrange for a replacement.
2. There is a problem with your air conditioning unit
If it seems like your air conditioner always has some problem or another, contact American Home Water and Air to discuss a replacement. While the cost of installing a brand new air conditioners may seem high, those repairs really add up after a while. Don't let them burn holes in your pocket!
However, if you think that your air conditioning unit is only in need of a minor repair, reach out to us and we'll send the best professionals in AC Repair In Phoenix, AZ to troubleshoot and fix your AC.
3. Your electricity bills are excessive
Replacing old air conditioners with a modern, more efficient one could save you thousands of dollars per year by way of a reduction in your AC power consumption. Check out our efficiency calculator to get an idea of how much you could save.
Air Conditioning Installation Services In Phoenix
Why Choose American Home Water and Air for Your AC Installation ?
I just had the most wonderful technician come out and install my new R/O system. Junior was so nice and courteous and thoughtful and on time to his appointment this morning. He was very fast and efficient as well as offered excellent solutions. I will only ever use this company for all of their services. I can't give enough praise to Junior! 10/10 will highly recommend!
Two thumbs and two toes up! Friendly over the phone, friendly in person, thorough, genuine, honest. Great service, very fair price, awesome value. Signed up for their VIP service so they come out twice a year and I get 20% off any parts that might need to be replaced. I'm a happy customer!
Mack showed up early, wearing a mask, and was very professional. He inspected our HVAC system, explaining everything, resolved the issue, and didn't try to upsell any additional/ unnecessary services. I was VERY impressed with him. MaryAnne took my call initially, and she was WONDERFUL to deal with. I just wish they did in-ground plumbing , I would DEFINITELY use them!
Joe actually called to see if he could stop by earlier than original timeframe. I explained that our new nest thermostat wasn't detecting the C-wire. He was able to quickly go up into attic and diagnose the issue. Ended up being a quick simple fix for him thankfully and also answered my questions for future reference. I'd use their services again.
I was referred to American Home Water and Air by my neighbor, and now I know why. They deserve the highest marks for their service. Installation, and professionalism. From the beginning estimate for an install of Reverse Osmosis to the install in less than a week appointment these guys did a super job and explained the system wit great professionalism I highly recommend this company they are my future choice. Thank
Mack T. was awesome! Super reliable, responsible, and professional. Purchased an AC from them and they provided a VIP service to check on the unit as part of the package. Got a text in the AM saying Mack was on his way. Rec'd a courtesy call to check in regarding any concerns. Then he followed up w/ another call to share findings. What you would expect from a great AC company. The Yelp reviews did not let me down. 😊