Benefits of Installing a Thermostat in Phoenix, AZ
The weather in Phoenix can be unpredictable, to say the least. You never know when it might be time to set up a thermostat installation in Phoenix and upgrade your current model. It's important to ensure you have a proper thermostat installed to help control indoor temperatures and preserve your home comfort. The last thing any homeowner wants is having to deal with unbearably hot indoor temperatures because of a faulty thermostat.
To make things worse, your thermostat might even be responsible for those alarmingly high energy bills you've been getting over the past few years. Faulty thermostats can be very inefficient with energy usage and might even overwork your HVAC system, which can not only lead to additional expenses, but also causes more wear and tear on your AC and heating system.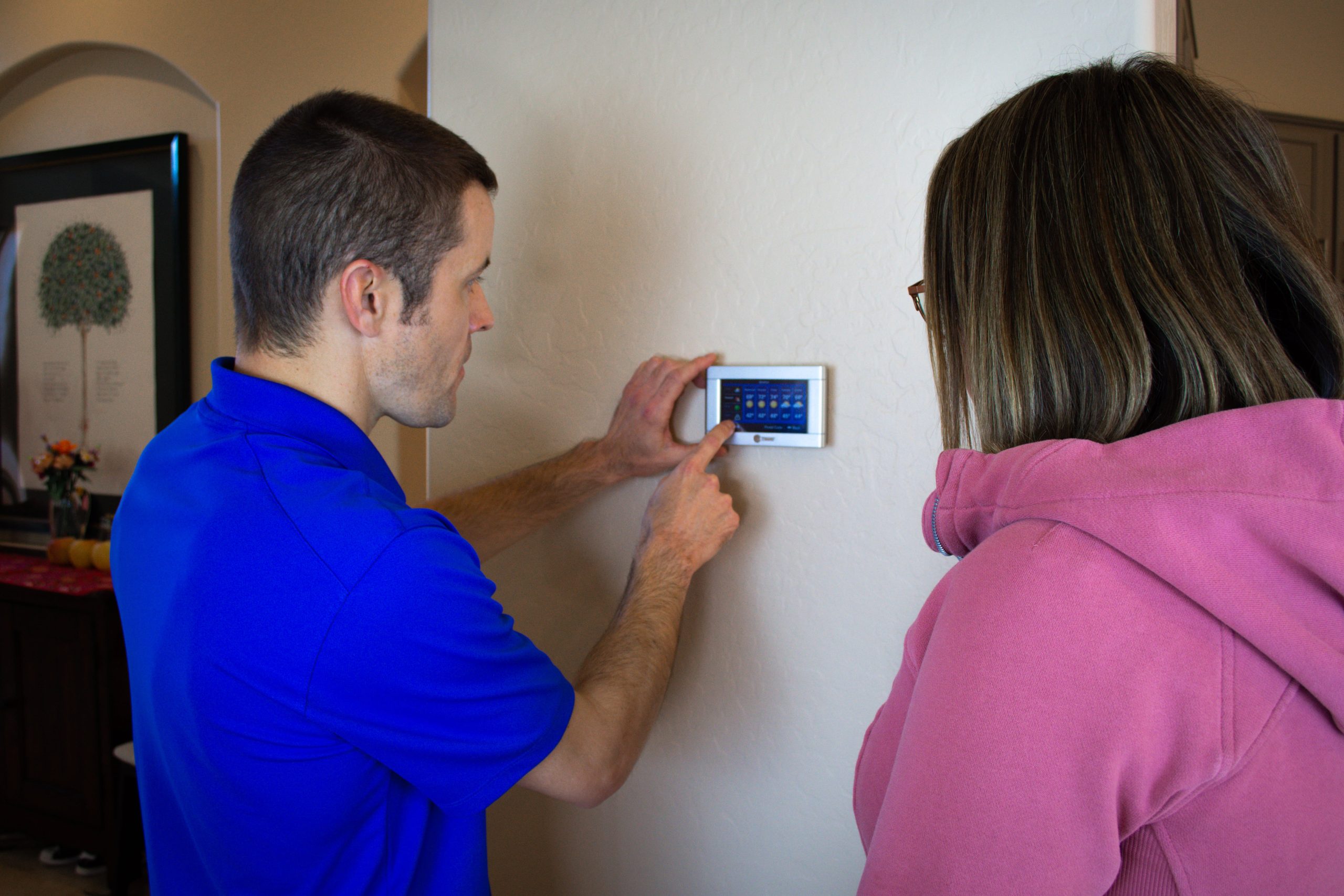 Getting a new digital thermostat installation or replacement comes with several benefits, including:
Reduced burden on your HVAC systems, meaning a longer system life and more time between replacements.

Less issues and breakdowns over the span of your HVAC systems' lifespan.

Increased energy efficiency and reduced power usage, which means spending less on energy bills in the long run.
While these benefits may sound great, a DIY project may not be the best idea. You'll need to ensure you get your thermostat installation in Phoenix handled by experienced professionals like American Home Water & Air. We can ensure that your AC thermostat installation is performed according to protocol, with minimal mess and downtime, and in a way that makes sure your system lasts for decades.
Our Thermostats Installation Services
If you've been looking for "thermostat installers near me" and haven't found the right provider, look no further than American Home Water & Air! We offer top quality thermostat installation in Phoenix, and adjust to your needs and preferences to ensure that your installation actually fits your needs.You might be wondering, who installs thermostats in the first place? Generally speaking, it's best to leave any job for thermostat installation in Phoenix to a professional.
American Home Water and Air offers:
We can work with any make and model, and can set up an appointment time for thermostat installation in Phoenix that works for you. Our professional technicians will visit your home and complete the installation in the minimum time possible, while testing to ensure all systems are working correctly.
If you're looking to upgrade your thermostat to a more energy efficient or feature-filled model, we've got you covered. We not only remove the existing unit with minimal disruption, but we also take the necessary steps and extra measures to ensure the new thermostat is properly set up and installed within your existing framework.
AHWA goes even further beyond; while you can simply buy a thermostat from a provider like Home Depot or Lowe's and have us install it, we can also help you find the best option for your home. We can even schedule a visit to perform a survey and provide our professional opinion on the best thermostat for Arizona. Just give us a call or send us an email to get the discussion started!
Trusted Brands We Use for Thermostat Installations
At American Home Water and Air, we're very selective about our hardware, making sure to only use the very best thermostat brands for our customers' needs. Here are some of the top brands we prefer for thermostat installation in Phoenix.
Ecobee's line of smart thermostats are designed to fit easily within your household setting. They come with convenient features including voice control and radar scanning and are a great option for any household.
Google's Nest thermostats work naturally with your Google Home Assistant and Home App, offering an incredible amount of control at affordable prices.
Honeywell has a great reputation for quality products, and their thermostats are no different. Offering several models and varieties for fine tuning home comfort, their models are sure to meet your home's needs.
A well-known maker of HVAC related products, Trane thermostats are the result of years of fine tuning and expertise applied to a feasible home temperature control system. They offer an incredible range of customization options for homeowners to tweak to suit their preferences.
Signs You Need to Upgrade Your Thermostat
There are several problems homeowners experience that indicate they might need a new thermostat installation in Phoenix or surrounding areas, including the following:
A faulty thermostat can often lead to an increase in energy and utility costs, which can be supported by correlating higher payments with other issues on this list.
Indoor Temperatures Don't Reach the Desired Setting
You might find that despite your settings, your home never actually reaches the level of warmth or coolness that you're looking for, no matter how long it runs.
AC or Heater Keeps Running All Day
If your HVAC systems are always on throughout the day, it probably ties into the previous issue of not being able to reach the desired indoor temperature.
Malfunctioning Thermostat
Your thermostat might act oddly, not accepting inputs, shutting off randomly, or setting incorrect temperatures.
To avoid these issues in the long run, you'll need to be able to recognize the signs that you need thermostat installation in Phoenix.
Thermostat doesn't respond to changes or doesn't power on or off on command.
Different parts of the house have huge variance in temperature.
Your energy bills are much higher than they used to be.
Your interface is glitchy or displaying incorrect information.
If any of these signs are showing up in your household, contact American Home Water and Air today to address the problem immediately and prevent the issue from getting worse.
Phoenix Thermostat Installation Service Areas

Why Choose American Home Water and Air for Your Thermostat Installation Needs?
I just had the most wonderful technician come out and install my new R/O system. Junior was so nice and courteous and thoughtful and on time to his appointment this morning. He was very fast and efficient as well as offered excellent solutions. I will only ever use this company for all of their services. I can't give enough praise to Junior! 10/10 will highly recommend!
Two thumbs and two toes up! Friendly over the phone, friendly in person, thorough, genuine, honest. Great service, very fair price, awesome value. Signed up for their VIP service so they come out twice a year and I get 20% off any parts that might need to be replaced. I'm a happy customer!
Mack showed up early, wearing a mask, and was very professional. He inspected our HVAC system, explaining everything, resolved the issue, and didn't try to upsell any additional/ unnecessary services. I was VERY impressed with him. MaryAnne took my call initially, and she was WONDERFUL to deal with. I just wish they did in-ground plumbing , I would DEFINITELY use them!
Joe actually called to see if he could stop by earlier than original timeframe. I explained that our new nest thermostat wasn't detecting the C-wire. He was able to quickly go up into attic and diagnose the issue. Ended up being a quick simple fix for him thankfully and also answered my questions for future reference. I'd use their services again.
I was referred to American Home Water and Air by my neighbor, and now I know why. They deserve the highest marks for their service. Installation, and professionalism. From the beginning estimate for an install of Reverse Osmosis to the install in less than a week appointment these guys did a super job and explained the system wit great professionalism I highly recommend this company they are my future choice. Thank
Mack T. was awesome! Super reliable, responsible, and professional. Purchased an AC from them and they provided a VIP service to check on the unit as part of the package. Got a text in the AM saying Mack was on his way. Rec'd a courtesy call to check in regarding any concerns. Then he followed up w/ another call to share findings. What you would expect from a great AC company. The Yelp reviews did not let me down. 😊