Get Your HVAC Unit Repaired Today by One of the Best Air Conditioning Companies in Phoenix!
At American Home Water and Air, we offer air conditioning repair in Phoenix, Arizona to suit every budget. We'll get your air conditioner back in good working order with prompt, reliable service.
No matter what brand or type of air conditioner you own, we're here to help.

Best Air Conditioning Repair Company in Phoenix
24-Hour AC Repair in Phoenix, AZ
Because emergencies don't just happen during business hours, we're available for emergency AC repair in Phoenix. Give us a call, no matter the time of day or night, and we'll schedule a technician for you as soon as possible. Our experienced technicians are ready to diagnose and repair all common air conditioning issues, such as
Frozen evaporator coils
Low or leaking refrigerant
Thermostat issues
Low refrigerant
Leaky ducts
Fan issues
Clogged drain lines
Worn compressor, fan, and blower motor contactors
We carry the most advanced tools and equipment that ensure a proper diagnostic of your Air conditioning system. If your HVAC unit is making sounds, leaking, not cooling, or experiencing any other issue – we are here for you 24 hours.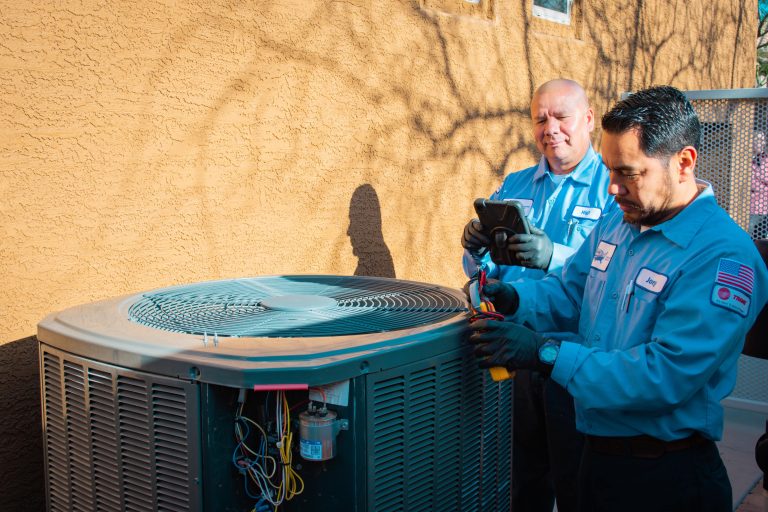 AC Repair Phoenix – Providing HVAC Services in Arizona and its Surrounding Cities
Unfortunately, some companies will try to unnecessarily sell you a brand new air conditioner when your issues could be resolved with much cheaper repairs. At American Home Water and Air, we've established a stellar reputation in the community precisely because we avoid these shady business practices. Whether you need simple repairs, routine maintenance, or a brand new AC installation In Phoenix, Arizona, we promise that you'll get transparent pricing for these services.
Contact us for a second quote. We'll pinpoint the exact nature of the issue and help you find the ideal solution. We check more than 40 common AC system issues, covering you on all bases.
Signs You Need AC Repair in Phoenix, AZ
Your air conditioner is making strange noises, smells, or leaks
Air conditioners should run fairly predictably. If yours is producing strange noises, smells, or leaks, you should absolutely contact us for air conditioning repair in Phoenix, Arizona. These issues can have serious consequences for your wallet and health.
Your air conditioner isn't cooling properly
If your air conditioner isn't fulfilling it's most basic purpose, something's gone wrong! Even if you aren't noticing any strange smells or leaks, contact us for Phoenix air conditioning repair. Otherwise, you'll keep wasting money on your electrical bill and potentially exacerbate existing issues with your air conditioner.
The area surrounding your air conditioner is unusually damp
Leaking refrigerant and clogged drain lines are two common issues we see that cause dampness around air conditioners. Because these can both cause lasting damage to your air conditioner, we recommend getting in touch as soon as possible.
Your AC is cycling more frequently or stays on for longer
If your AC is having issues and isn't running the way it should, chances are that it's cycling on and off much more often than normal. It could also potentially run longer, since it takes longer to cool. There could be several reasons for this, and almost all require professional attention to resolve properly.
Your home has temperature differences
If you're finding that different rooms in your home have different temperatures, with some cooler or warmer than others, your AC is likely not working properly, or there's an issue with the ductwork. This could also be a sign of inefficient cooling and could lead to extra spending on energy bills as well, so it's a clear sign you need professional assistance for AC repair in Phoenix.
The Most Thorough Checklist for Phoenix Air Conditioning Repair
Services for AC Repair in Phoenix
Why Choose American Home Water and Air for Your Air Conditioning Repair Needs?
I just had the most wonderful technician come out and install my new R/O system. Junior was so nice and courteous and thoughtful and on time to his appointment this morning. He was very fast and efficient as well as offered excellent solutions. I will only ever use this company for all of their services. I can't give enough praise to Junior! 10/10 will highly recommend!
Two thumbs and two toes up! Friendly over the phone, friendly in person, thorough, genuine, honest. Great service, very fair price, awesome value. Signed up for their VIP service so they come out twice a year and I get 20% off any parts that might need to be replaced. I'm a happy customer!
Mack showed up early, wearing a mask, and was very professional. He inspected our HVAC system, explaining everything, resolved the issue, and didn't try to upsell any additional/ unnecessary services. I was VERY impressed with him. MaryAnne took my call initially, and she was WONDERFUL to deal with. I just wish they did in-ground plumbing , I would DEFINITELY use them!
Joe actually called to see if he could stop by earlier than original timeframe. I explained that our new nest thermostat wasn't detecting the C-wire. He was able to quickly go up into attic and diagnose the issue. Ended up being a quick simple fix for him thankfully and also answered my questions for future reference. I'd use their services again.
I was referred to American Home Water and Air by my neighbor, and now I know why. They deserve the highest marks for their service. Installation, and professionalism. From the beginning estimate for an install of Reverse Osmosis to the install in less than a week appointment these guys did a super job and explained the system wit great professionalism I highly recommend this company they are my future choice. Thank
Mack T. was awesome! Super reliable, responsible, and professional. Purchased an AC from them and they provided a VIP service to check on the unit as part of the package. Got a text in the AM saying Mack was on his way. Rec'd a courtesy call to check in regarding any concerns. Then he followed up w/ another call to share findings. What you would expect from a great AC company. The Yelp reviews did not let me down. 😊