The Big Blue water filter's housing is based on a deceptively simple and ingenious design. Throughout our more than 30 years of experience in the HVAC and water filtration business, we've installed and serviced countless of these units. That's why we've put together this guide to help answer some of the common questions we receive about the Big Blue filter.
Let's dive in! But before that, check out these fun facts about Scottsdale.
Big Blue Water Filter Housing: The Basics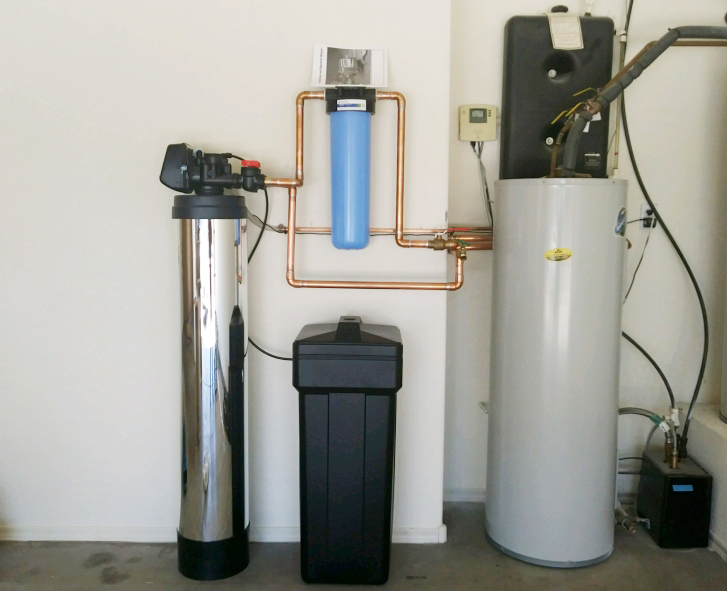 The Big Blue water filter is a point-of-entry (POE) system, meaning the unit filters your water supply before it gets to your various fixtures. It's a very cost-effective method of filtration because you only need to worry about maintaining one unit as opposed to several for all the different faucets and fixtures in your home.
Now, the term "Big Blue" has become to water filters what the term "Kleenex" is to tissues. That is to say, there are many brands that produce similar-looking filters that inexperienced consumers (and even some technicians) refer to as "Big Blue."
In actuality, the term "Big Blue" is registered to a company called Pentair. Unlike some of the imitation "Big Blue" filters out there, Pentair's products are built remarkably well and are very effective. They get their name from the characteristic blue housing that Pentair designed.
About Pentair
Within the HVAC and water filtration industry, Pentair is a behemoth. They own many brands, with Pentek being the one under which their Big Blue filters fall. Pentek specializes in residential water filtration systems, whereas Pentair's other brands cover systems for everything from agriculture to commercial and industrial applications.
What's Special About The Big Blue Water Filter Housing?
Given that there are so many imitations of the Big Blue filter on the market, one might be tempted to find a cheaper version and call it a day. Here's why that's a bad idea.
#1. Pentair is a Highly Trusted Company
HVAC and water technicians have a very high view of Pentair — and for good reason. The company has been around since 1966 and is established in more than 25 countries. Pentair's extensive expertise in all things related to water filtration means that their product designs (such as the Big Blue filter in question) are highly informed.
Less-reputable companies have been known to produce lower-quality units that don't work as efficiently as the Big Blue.
#2. Serviceability
The Big Blue filter is ubiquitous. Any water technician worth their salt knows how to install and service one of these units. There are even plenty of guides online (such as this one) showing you how to use the unit yourself. Plus, you can find parts for the Big Blue filter at most home hardware stores. This isn't always the case with more obscure filters.
#3. Size
As its name would suggest, the Big Blue filter is larger than many other filters on the market. This allows you to use a wider array of cartridges and generally achieve greater efficiency than you would with a smaller filter.
This larger size also reflects the Big Blue's intended use as a POE filter. Smaller units are really only meant for point-of-use purposes (i.e. you'd affix them directly to your faucet as opposed to at the point of entry).
How Does The Big Blue Water Filter Housing Work?
The Big Blue housing contains the filter that cleans your water. It is attached to a black valve through which water enters. From there, the water makes its way down into the housing, where it passes through the cleansing cartridge before being pumped back up through the valve and to your fixtures.
One of the reasons this design is popular is that the Big Blue allows you to place a variety of filters (they come in standardized sizes that we'll explore shortly) in the unit depending on what you're trying to remove.
Big Blue Filter Housing Specifications
Big Blue filter housing specifications vary. They accept cartridges that are 4-½" in diameter and either 10" or 20" in length. The unit's high-flow polypropylene (HFPP) top comes with the following inlet port dimensions:
The latter port allows for a larger amount of liquid to flow through the unit.
With Big Blue housings, users can choose between units with or without pressure relief buttons.
User Servicing: How Often To Change Big Blue Water Filter
The filter housing itself can last for a very long time; Pentek only recommends you replace it after 10 years of use. The cartridge should be replaced roughly every 40 gallons. It depends on several factors, though, including what cartridge you're using and the water quality in your area.
This cost is truly negligible when you consider the alternatives to water filtration, such as buying bottled water instead.
The fact that these units last 10 years is also pretty remarkable. Every time you close a faucet in your home, a water hammer occurs. In a nutshell, water flows through your pipes (and your water filter) at a relatively fast rate. When you shut off the faucet, this flow suddenly stops. The energy gets dissipated to a variety of appliances, including your water filter.
Inferior filters start to crack and lose their structural integrity much sooner than 10 years as a result of this force (water heaters may smell and shorten it's life expectancy as a result).
How To Change The Filter
Important: Use The Big Blue Filter Wrench
The Big Blue filter wrench (which comes with the unit) fits nearly around the housing and allows you to evenly unscrew the unit as opposed to applying uneven twisting pressure with your hands, which may damage the unit over time.
After you loosen the housing with the wrench, you'll see the Big Blue filter o-ring. Hand onto this; it's an important gasket that you'll want to put back in its spot after you change the cartridge.
Changing the cartridge itself is relatively simple. Just pull it out and pop a new one in! Then, replace the Big Blue filter o-ring and screw the housing back onto the black top.
That's all it takes!
Big Blue Water Filter Housing: Conclusion
The Big Blue water filter is a very popular and reliable unit. It gets its name from its large blue housing. Many smaller brands have produced similar-looking units but at American Home Water and Air, we recommend buying genuine Big Blue housing from Pentair's Pentek brand. The company's products are highly reliable and easy to service.
For more water filtration and air conditioning blogs, check out these strategies to save money on your air conditioning bill and knowing the main parts of your HVAC system.
Frequently Asked Questions
Who makes Big Blue water filters?
A company called Pentair makes Big Blue water filters. That said, the term has become akin to "Kleenex" in many years, with people using it to refer to similar products. Make no mistake, though; there's only one true Big Blue and it's made by Pentair.
How long do Big Blue filters last?
According to Pentair (the manufacturer), Big Blue filters should last about 10 years.
How does a Big Blue water filter work?
A Big Blue water filter's mechanism is actually quite simple. Water flows through the unit and gets passed through whatever cartridge you have inside.
Related Posts