Top Quality Reverse Osmosis (RO) Systems in Phoenix, AZ
In Phoenix, reverse osmosis systems remove up to 97% of heavy metals, organics, and pesticides that are common in Arizona water. This produces great-tasting, safer drinking water for you and your family. 
At American Home Water and Air, all of our thin-film composite membranes provide between 18 and 50 gallons per day. Color-coded tubing makes installation simple and brief while a basic chrome reach faucet comes standard.
Cost of Yearly Reverse Osmosis Service in Phoenix
The yearly maintenance cost is $98 for a four stage RO system and $110 for a five stage system. This is a very reasonable cost considering how much money you'll save on bottled water. 
| 4 STAGE | 5 STAGE |
| --- | --- |
| $350.00 including Tax | $399.00 including Tax |
Other Prices
Free chrome spigot
$100 Drill granite
$75 Drill porcelain
$25 + frig. ice line
$50 + cabinet
$300 Attic
Reverse Osmosis Frequently Asked Questions
Reverse osmosis is a process through which water passes through progressively finer membranes that remove contaminants. This process is actually used at many different scales, including filtering seawater for industrial purposes. 
On a residential scale, the membranes used in reverse osmosis often contain holes as small as one micron — more than 100 times finer than a strand of hair! This is what makes reverse osmosis so effective at removing contaminants.
What is the advantage of having RO systems in Phoenix?
A reverse osmosis system in Phoenix is essential due to the region's highly-contaminated water supply. A good RO system will provide crystal clear drinking water that not only looks better, but is also healthier for you. 
When buying a reverse osmosis system in Phoenix, you want to be certain that you work with a dealer that is known for quality products and service, in addition to offering fair prices. American Home Water has you covered on both fronts!
What does reverse osmosis remove?
Reverse osmosis removes most of the contaminants that plague American drinking water. That includes:
protozoa

bacteria like E. coli

viruses like norovirus

heavy metals (including lead and arsenic)

natural salts

fluoride
How much water does reverse osmosis waste?
The reverse osmosis process can use between two and four gallons of water for every one gallon it produces. This sounds worse than it actually is, though. The alternative to using a reverse osmosis filter is to use bottled water, the manufacture of which actually does far more damage to the environment than filtration.
From a cost standpoint, tap water is also quite affordable. The added cost of reverse osmosis water will be negligible.
How do you remineralize water after reverse osmosis?
Remineralizing your water is not essential as many people mistakenly believe. Human beings get most of their supply of these minerals through their diet and not their water intake. If you prefer the taste of mineralized water, you can add an alkalization stage to your water chain with ease. This comes in the form of an attachment resembling a filter, only it contains minerals that dissolve into your water as it passes through the filter.
REVERSE OSMOSIS FILTER DIAGRAM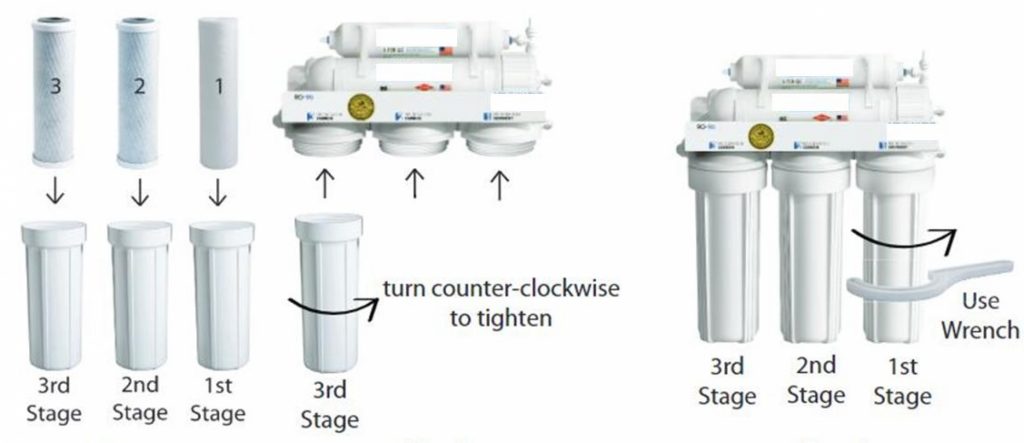 REVERSE OSMOSIS DIAGRAM WITH ICEMAKER HOOK UP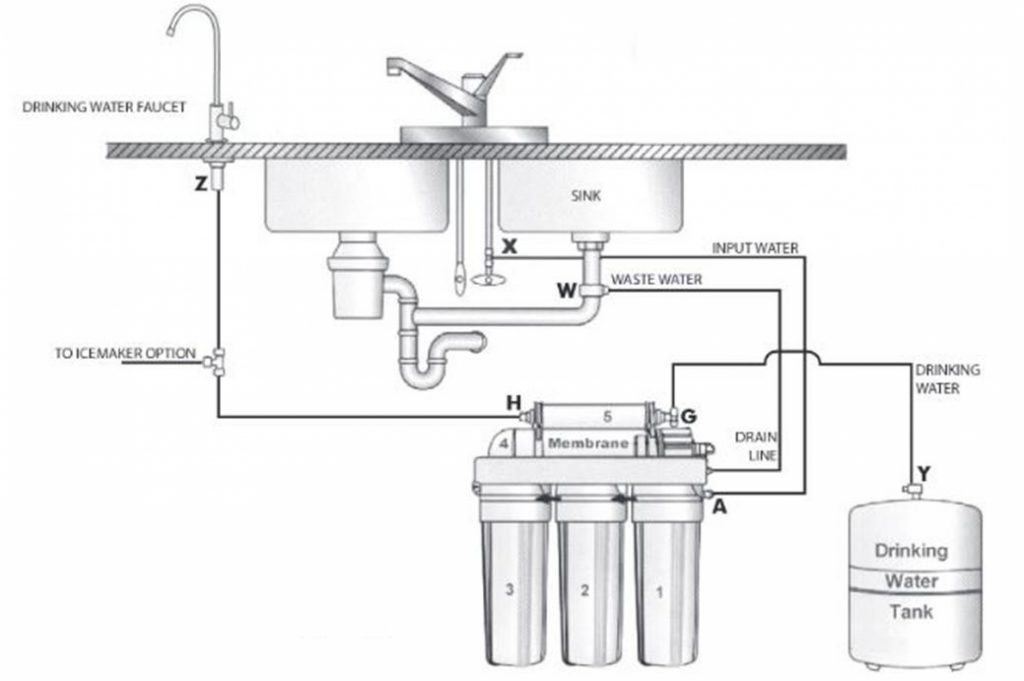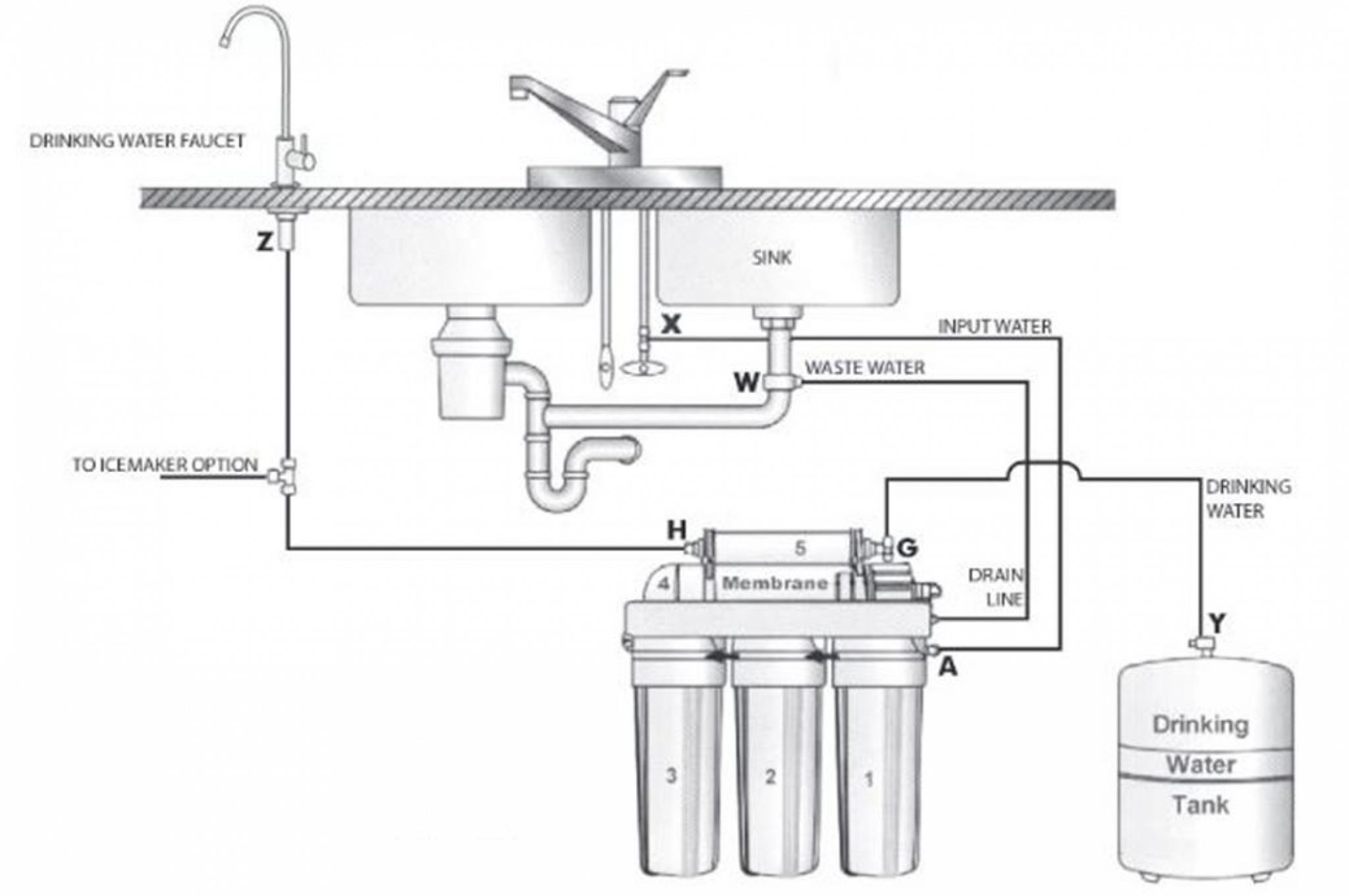 Four and Five-Stage Systems
At American Home Water and Air, we offer both four and five-stage reverse osmosis systems. These clean your water much more efficiently than single-stage systems bypassing your water through a series of membranes. Together, these stages can leave your water as much as 99% pure.
Designer faucets available
Designer faucets are also available for those who want to style and color coordinate with existing hardware. (see options below)
CLICK IMAGE TO VIEW SPIGOT STYLES AND COLORS
CLICK IMAGE TO VIEW NOMINAL REJECTION CHARACTERISTICS
603 Series – Feature plastic housing, spout swivels 360 degrees and durable 1/4 turn disc valve, allowing pure water to pour at any rate you desire and polished plated color finish.
Cost: $40.00
905 Series – Solid metal handle controls the smooth and durable 1/4 turn ceramic disc valve, allowing pure water to pour at any rate you desire, spout swivels 360.
Cost: $60.00
888 Series – Solid metal handle controls the smooth and durable 1/4 turn ceramic disc valve, allowing pure water to pour at any rate you desire, spout swivels 360.
Cost: $80.00