Reverse Osmosis in Phoenix, Arizona
Reverse osmosis systems in Phoenix remove up to 97% of heavy metals, organics, and pesticides that are common in Arizona water. Your food will taste richer, you'll spend less on bottled water, and – most importantly – your family will be safer!
At American Home Water & Air, all of our reverse osmosis systems provide between 18 and 50 gallons daily. Installations also include a chrome reach faucet.
About Our Reverse Osmosis Services in Phoenix
Installation of Reverse Osmosis Systems in Phoenix
American Home Water and Air technicians are ready to install RO systems in Phoenix from scratch! We'll help you choose the right system for your family's needs then install it professionally at competitive rates.
Reverse Osmosis Service in Phoenix
Reverse osmosis systems in Phoenix require occasional maintenance thanks to contaminants in the local water supply. Our technicians can help you keep your filter in good working order.
Reverse Osmosis Repair in Phoenix
Having Trouble with your reverse osmosis system in Phoenix? Call the most trusted name in reverse osmosis repairs! Our technicians will pinpoint the problem and solve it promptly.
Reverse osmosis is one of the most effective water filtration methods out there! It relies on several stages, all of which we've fine-tuned in our reverse osmosis systems to ensure your family's safety. Here's how it works.
Stage 1: Pre-Filter
The pre-filter stage removes whatever large particles made it through the municipal filtration system (or were picked up afterward). This ensures that you'll never see any solid material in your drinking water!
Stage 2: Membrane
This is where the real reverse osmosis magic happens. Our reverse osmosis systems in Phoenix pump your water through several stages of membranes that remove even the contaminants you wouldn't see without a powerful microscope! We offer 4-stage and 5-stage filters to ensure only the best drinking water for you and your family.
Stage 3: Polishing
At the polishing stage, a carbon filter removes any lingering odors or tastes, leaving you with the best-tasting and smelling water possible. 
REVERSE OSMOSIS FILTER DIAGRAM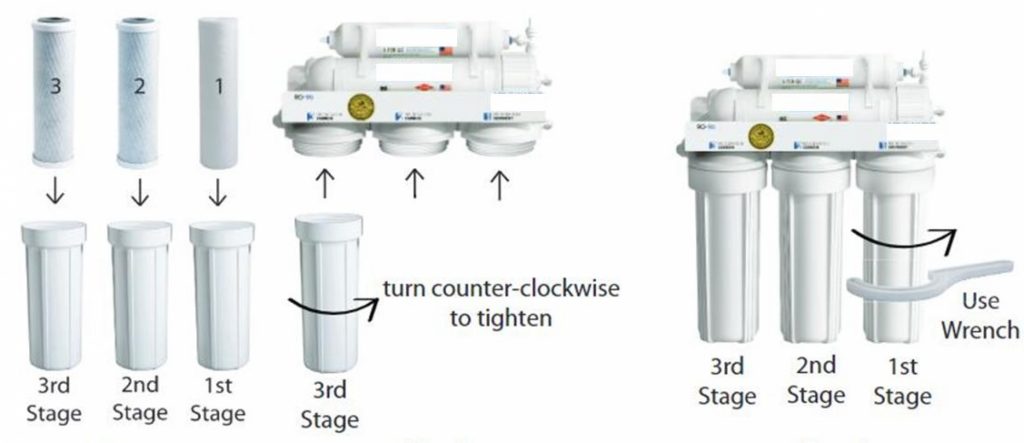 REVERSE OSMOSIS DIAGRAM WITH ICEMAKER HOOK UP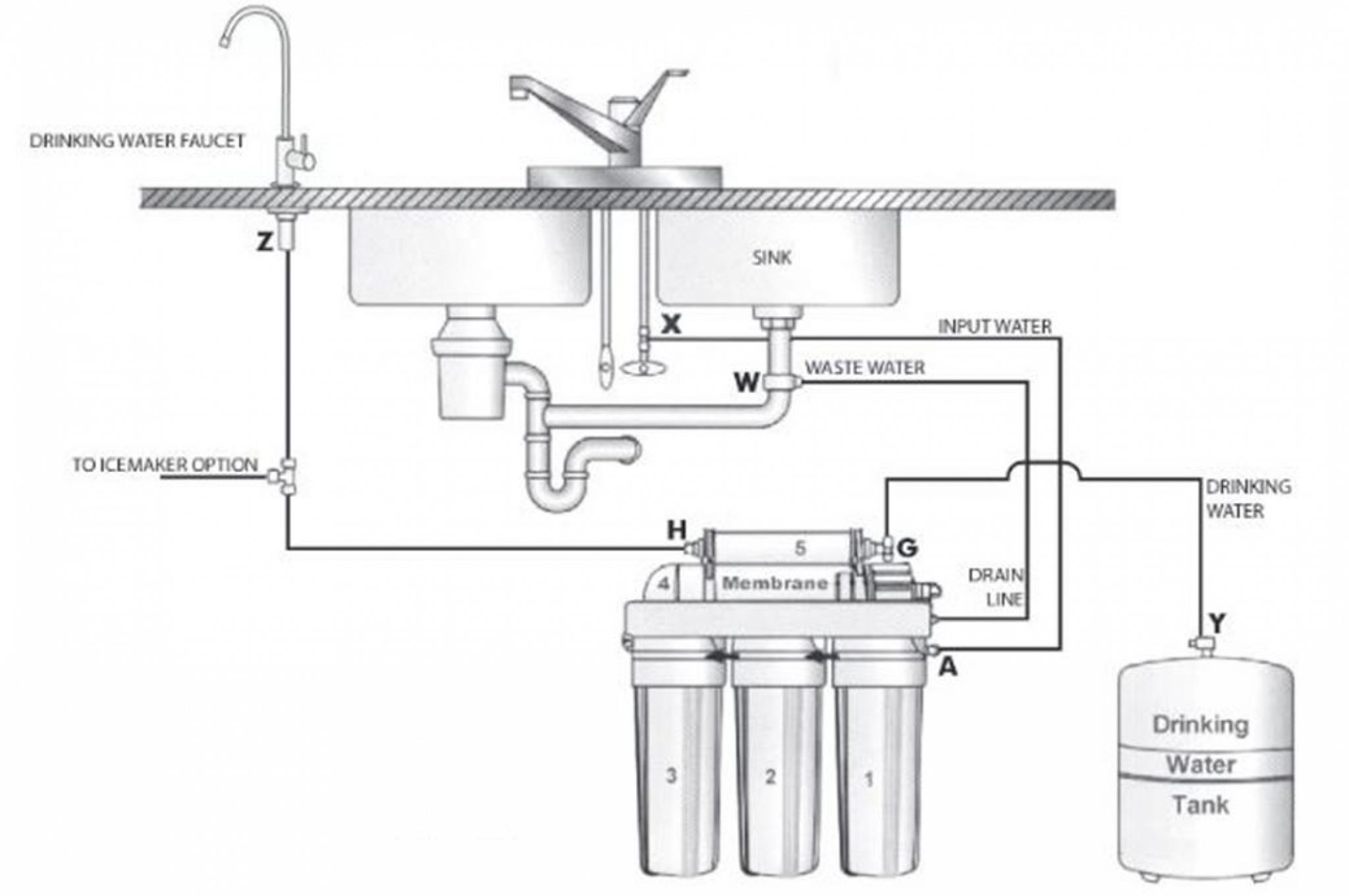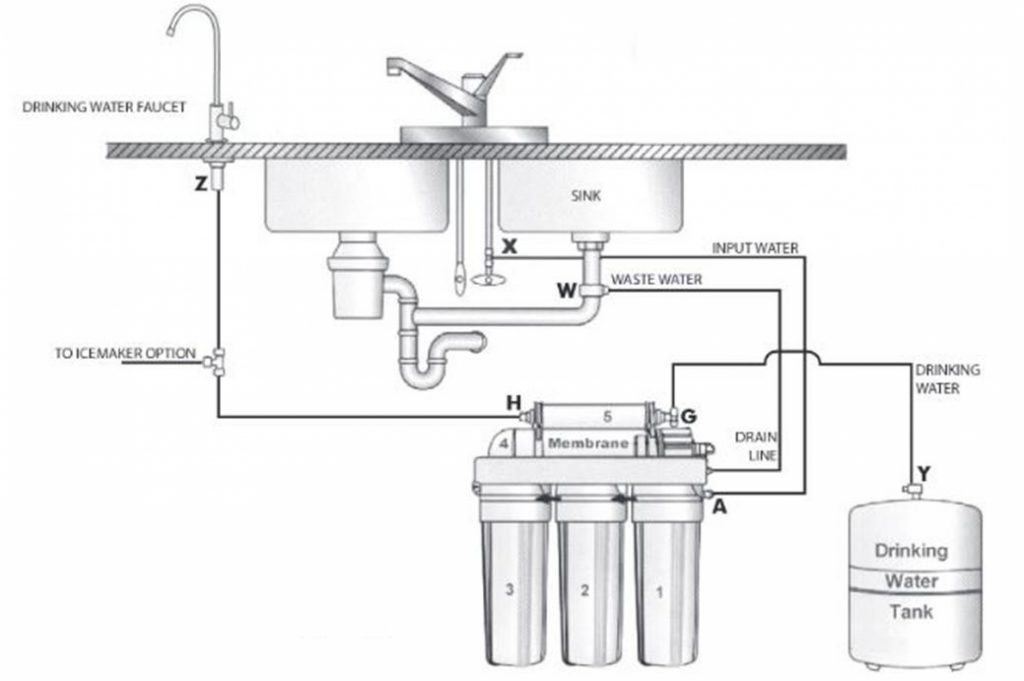 Benefits of Reverse Osmosis in Phoenix
It's no secret that Phoenix's water quality is not the best. A reverse osmosis system improves your household's drinking water in the following ways.
Obliterate Toxins
Toxins like arsenic and other heavy metals abound in Phoenix drinking water. Left unmitigated, these toxins can build up in your system and cause health problems. Reverse osmosis is one of the most effective means of preventing this.
Better-Tasting Water
It's easy to underestimate how much of an impact your water's taste can have on food and even your enjoyment of drinking water! Reverse osmosis water tastes better and enhances the flavor of your foods.
HUGE Cost Savings
Reverse osmosis water is hundreds of times cheaper than bottled water. You'll save tons of money while still being able to meet your daily intake requirements with a reverse osmosis system in Phoenix.
About Our RO Systems in Phoenix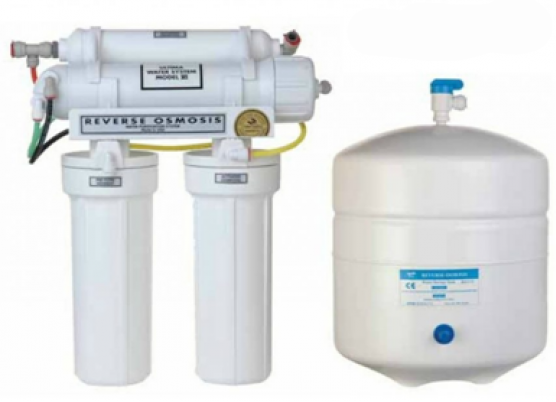 A 4-stage reverse osmosis system offers reliable filtration for homes with somewhat poor water quality.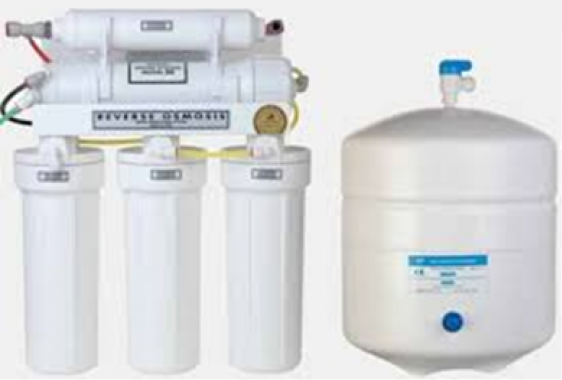 If your water quality is particularly bad or only the best of the best will do, a 5-stage reverse osmosis system is what you need!
Cost of Yearly Reverse Osmosis Service in Phoenix
The yearly maintenance cost is $110 for a four stage RO system and $120 for a five stage system. This is a very reasonable cost considering how much money you'll save on bottled water. 
| 4 STAGE | 5 STAGE |
| --- | --- |
| $350.00 including Tax | $399.00 including Tax |
Other Prices
Free chrome spigot
$100 Drill granite
$75 Drill porcelain
$25 + frig. ice line
$50 + cabinet
$300 Attic
Frequently Asked Questions About Reverse Osmosis in Phoenix
Reverse osmosis is a process through which water passes through progressively finer membranes that remove contaminants. This process is actually used at many different scales, including filtering seawater for industrial purposes. 
On a residential scale, the membranes used in reverse osmosis often contain holes as small as one micron — more than 100 times finer than a strand of hair! This is what makes reverse osmosis so effective at removing contaminants.
What is the advantage of having RO systems in Phoenix?
A reverse osmosis system in Phoenix is essential due to the region's highly-contaminated water supply. A good RO system will provide crystal clear drinking water that not only looks better, but is also healthier for you. 
When buying a reverse osmosis system in Phoenix, you want to be certain that you work with a dealer that is known for quality products and service, in addition to offering fair prices. American Home Water has you covered on both fronts!
What does reverse osmosis remove?
Reverse osmosis removes most of the contaminants that plague American drinking water. That includes:
protozoa

bacteria like E. coli

viruses like norovirus

heavy metals (including lead and arsenic)

natural salts

fluoride
How much water does reverse osmosis waste?
The reverse osmosis process can use between two and four gallons of water for every one gallon it produces. This sounds worse than it actually is, though. The alternative to using a reverse osmosis filter is to use bottled water, the manufacture of which actually does far more damage to the environment than filtration.
From a cost standpoint, tap water is also quite affordable. The added cost of reverse osmosis water will be negligible.
How do you remineralize water after reverse osmosis?
Remineralizing your water is not essential as many people mistakenly believe. Human beings get most of their supply of these minerals through their diet and not their water intake. If you prefer the taste of mineralized water, you can add an alkalization stage to your water chain with ease. This comes in the form of an attachment resembling a filter, only it contains minerals that dissolve into your water as it passes through the filter.
Designer faucets available
Designer faucets are also available for those who want to style and color coordinate with existing hardware. (see options below)
CLICK IMAGE TO VIEW SPIGOT STYLES AND COLORS
CLICK IMAGE TO VIEW NOMINAL REJECTION CHARACTERISTICS
603 Series – Feature plastic housing, spout swivels 360 degrees and durable 1/4 turn disc valve, allowing pure water to pour at any rate you desire and polished plated color finish.
Cost: $40.00
905 Series – Solid metal handle controls the smooth and durable 1/4 turn ceramic disc valve, allowing pure water to pour at any rate you desire, spout swivels 360.
Cost: $60.00
888 Series – Solid metal handle controls the smooth and durable 1/4 turn ceramic disc valve, allowing pure water to pour at any rate you desire, spout swivels 360.
Cost: $80.00
We also provide services in these cities