Air Scrubber Installation in Phoenix, AZ
American Home Water and Air is your one-stop shop for all things air scrubber and HVAC
At American Home Water and Air, we offer air scrubber installation in Phoenix, Arizona to suit every budget. We'll get your air scrubber back in good working order with prompt, reliable service.

The Importance Of Preserving Your Indoor Air Quality
You want your home to be as safe and hygienic as possible, and indoor air quality is one of the most critical aspects of your home's comfort. Keeping your indoor air fresh and clean may sound as simple as opening a window, but there are several other airborne contaminants that you'll want to watch out for that require a more targeted approach. 
These include pollen, pet dander, bacteria, and other contaminants that must be filtered out at the microscopic level. As a result, air scrubbers serve as the best approach to purifying your indoor environment and keeping your indoor air quality as high as possible.
The Air Scrubber Plus® is a filtration device that connects directly to your HVAC system and continually purifies your air. It's not to be confused with the larger air scrubbers that are used during renovations or intensive mold removal. This one sits right in your HVAC system and works 24/7 to keep you and your family safe!
The Air Scrubber Plus® is the only air purification technology to receive the Certified Space Technology Seal, symbolizing NASA's confidence in using it aboard the International Space Station.
Despite what we might think, indoor air environments can be twice to even thrice as contaminated with pollutants as the outdoor environment. This is due to a smaller amount of air relative to the outdoor environment, as well as much less air flow and fresh air naturally flowing through a typical household.  That's where air scrubbers come in – they're devices that are placed directly within your HVAC system's ducts. From there, they work to remove any pollutants, contaminants, germs, and allergens from your indoor environment as they pass through. 
Featuring ActivePure® Technology by Aerus
ActivePure® Technology goes beyond your typical HEPA filter by actively removing contaminants from the air and surfaces in your home. NASA credits it with protecting 10,000 households during the Aliso Canyon gas leak in 2015. Those families were able to stay sheltered in place while their neighbors without the Air Scrubber Pro® had to evacuate.
ActivePure® is proprietary technology you won't find in any other air scrubbers for sale!
Why You Need An Air Scrubber in Phoenix, AZ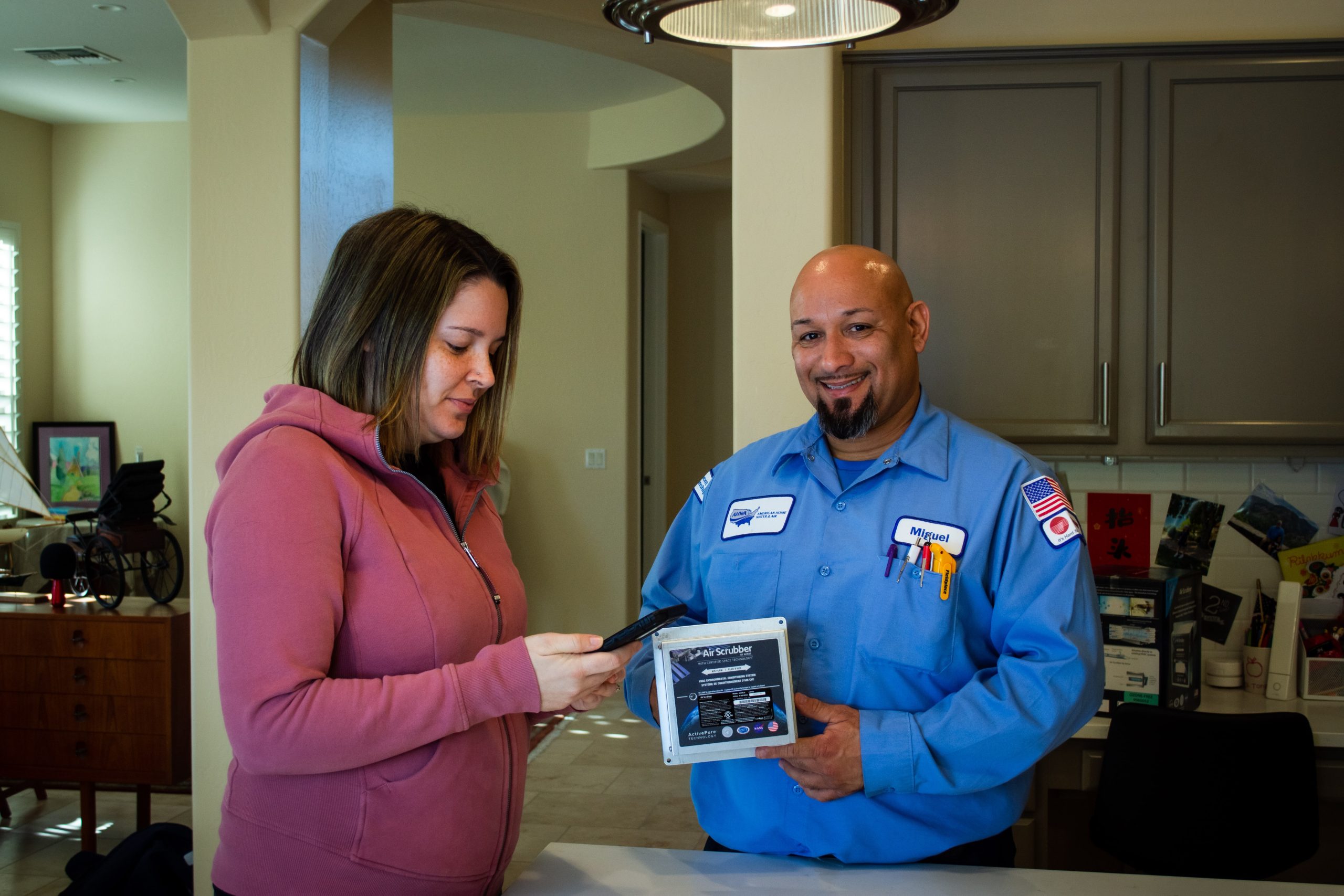 The Air Scrubber Plus® constantly works to deodorize and purify your home's air, eliminating more than 90% of pathogens within 30 minutes of operation. It can also remove as much as 99% of surface mold when run continuously, making it several orders of magnitude more powerful than what even the best HVAC system could do on its own.
It's no secret that this level of filtration is necessary in Phoenix, Arizona, which ranks among the worst 10 cities in America when it comes to air pollution. In Phoenix, air scrubbers can drastically improve your family's quality of life, particularly if any members of your household suffer from allergies.
At American Home Water & Air, we are happy to provide the Air Scrubber Plus® with all new HVAC installations or fit it to your existing unit!
Air Scrubber Brands We Carry
While we have expertise across many different brands of Phoenix air scrubbers, we recommend and use models that use ActivePure technology, such as the Aerus air scrubber model. 
These models work 24 hours a day and remove not just aerial pollutants, but also allergens and germs off household surfaces when the fan is operational. This makes them particularly effective options for an indoor air scrubber that we'd highly recommend.
Note that ActivePure technology is also present in other models, such as the Vollara Air & Surface Pro. 
This means that you can capitalize on ActivePure technology across various options, though the air scrubber by Aerus installation option does remain popular among our clients. Contact American Home Water and Air to learn more about which option is the best for you. 
Why Choose American Home Water and Air for Your Air Scrubber Needs?
I just had the most wonderful technician come out and install my new R/O system. Junior was so nice and courteous and thoughtful and on time to his appointment this morning. He was very fast and efficient as well as offered excellent solutions. I will only ever use this company for all of their services. I can't give enough praise to Junior! 10/10 will highly recommend!
Two thumbs and two toes up! Friendly over the phone, friendly in person, thorough, genuine, honest. Great service, very fair price, awesome value. Signed up for their VIP service so they come out twice a year and I get 20% off any parts that might need to be replaced. I'm a happy customer!
Mack showed up early, wearing a mask, and was very professional. He inspected our HVAC system, explaining everything, resolved the issue, and didn't try to upsell any additional/ unnecessary services. I was VERY impressed with him. MaryAnne took my call initially, and she was WONDERFUL to deal with. I just wish they did in-ground plumbing , I would DEFINITELY use them!
Joe actually called to see if he could stop by earlier than original timeframe. I explained that our new nest thermostat wasn't detecting the C-wire. He was able to quickly go up into attic and diagnose the issue. Ended up being a quick simple fix for him thankfully and also answered my questions for future reference. I'd use their services again.
I was referred to American Home Water and Air by my neighbor, and now I know why. They deserve the highest marks for their service. Installation, and professionalism. From the beginning estimate for an install of Reverse Osmosis to the install in less than a week appointment these guys did a super job and explained the system wit great professionalism I highly recommend this company they are my future choice. Thank
Mack T. was awesome! Super reliable, responsible, and professional. Purchased an AC from them and they provided a VIP service to check on the unit as part of the package. Got a text in the AM saying Mack was on his way. Rec'd a courtesy call to check in regarding any concerns. Then he followed up w/ another call to share findings. What you would expect from a great AC company. The Yelp reviews did not let me down. 😊
Frequently Asked Questions
Phoenix Air Scrubber Service Map