In many parts of the United States, you simply can't live without an air conditioner and is well water safe to drink? Residents experience all sorts of troubles on a daily basis. Truth told, however, they can be somewhat of an eyesore, particularly if you've carefully crafted other aspects of your home's exterior design. In this post, we'll give you some tips on how to hide an air conditioner unit outside and how to hide ductless mini split and other AC systems inside the house.
How To Hide An Air Conditioner Unit Outside: The Basics
Before we discuss the clever disguises you can cloak your air conditioner behind, there are some caveats worth mentioning. First, your air conditioner's compressor requires no less than six inches of clearance on one side and one foot on the remaining sides. Some experts recommend going with two feet of clearance. Keep this in mind when creating your disguise's dimensions.
No matter what type of air conditioner you have, the compressor almost certainly resides in the compartment you're looking to hide – the exterior cabinet. You should also remember that this cabinet houses important components that will need servicing at least twice annually. A good disguise is one that doesn't prevent you or your technician from performing this work.
Here's one last thing to keep in mind. Ideally, you shouldn't make any attempt to cover your air conditioner. Technically speaking, it won't be as efficient. If you cover it too tightly, the air conditioner may even harbor excess moisture. If you can live with an exposed air conditioner, great. If not, here are some camouflage ideas.
How To Hide Your Air Conditioner Unit
First, we'll take a look at 13 ideas for hiding your central or mini-split air conditioner. Then, we'll discuss how to hide your window air conditioner outside.
Central and Mini-Split Air Conditioners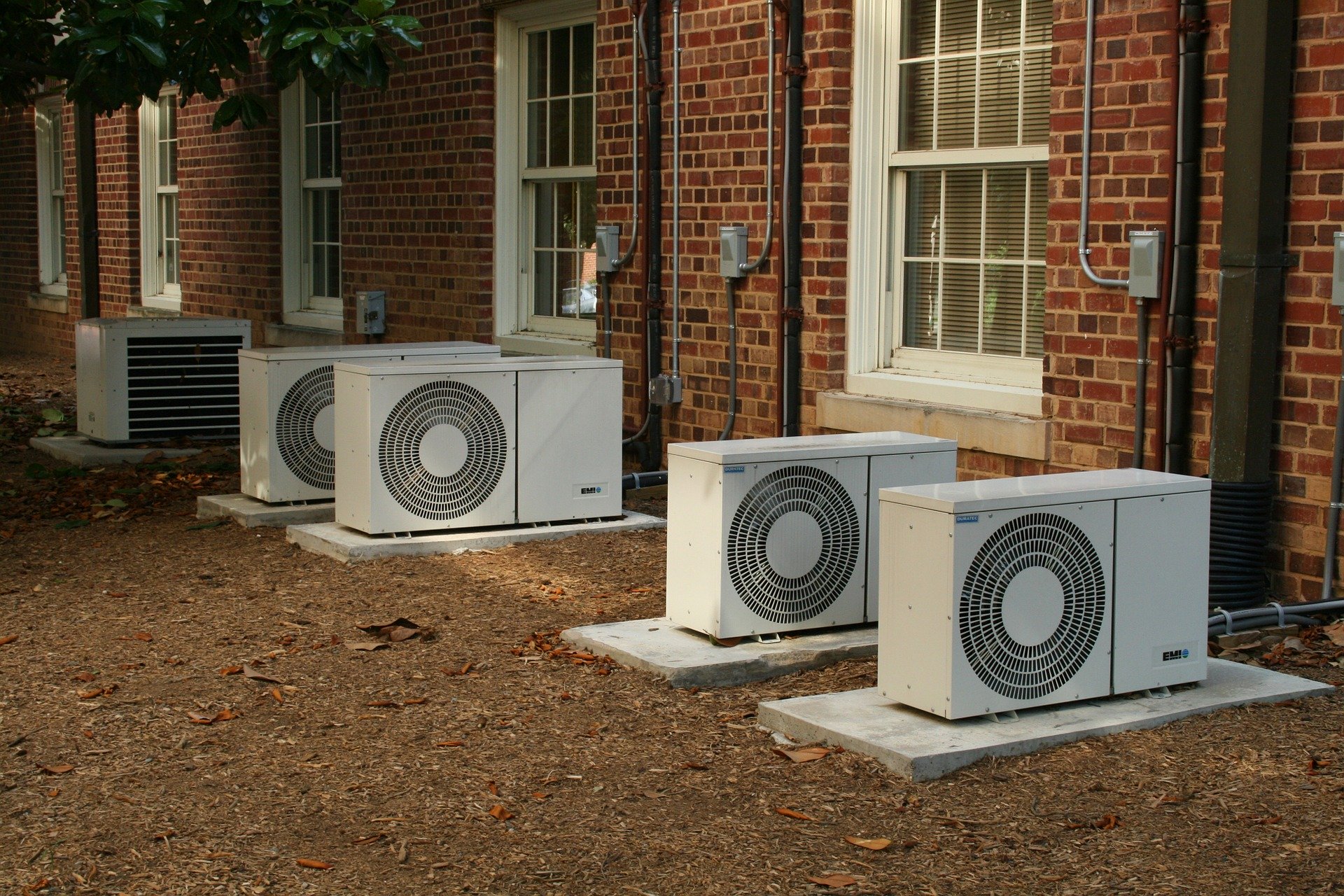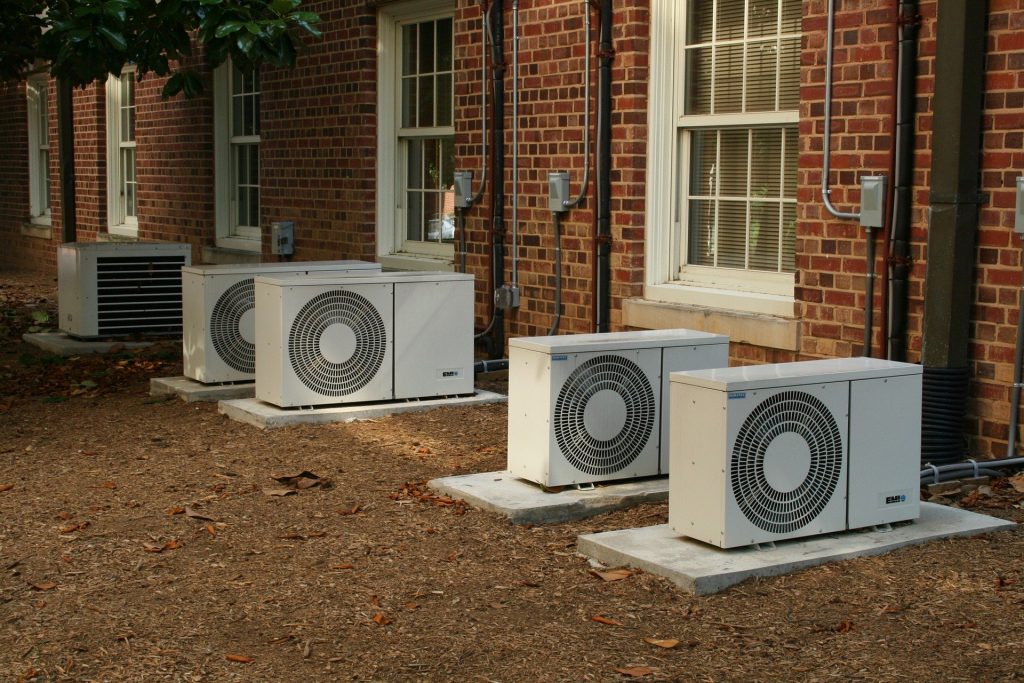 #1. Tall Shrubs
Place shrubs along the most distracting side of your air conditioner. That should be whichever side faces the parts of your lawn or backyard that people see most often. Keep at least one other side free of any obstruction to allow easy access for servicing.
Air conditioners in Phoenix can be hidden with more quirky native plants like cacti but some simple shrubs will do just fine if you live in cooler parts of the United States.
#2. Iron Trellis
An iron trellis won't completely hide your air conditioner but it does solve several issues in one go. First, you can put your trellis a lot closer to the unit since it doesn't inhibit airflows like shrubs or fences. Second, it's very easy to move a trellis when you need to access the unit.
A trellis will also add some flair to your backyard. You can hang some decorative elements like plants and birdhouses on it.
#3. Large Ventilated Shed
If your air conditioner sits near other components you want to hide (i.e. your water meter and other external plumbing), a large ventilated shed can hide them all. Look for something with substantial openings that will allow air to pass through easily.
#4. Shutter Screen
A shutter screen can help you hide your air conditioner unit while also imparting a cool shabby chic look. You can choose a vibrant color that makes your backyard 'pop' or go with a more rustic-looking hue that blends in. In either case, position your shutter screen in such a way that it can be opened (or removed entirely) when you need to access the air conditioner.
#5. Basic Slat Fence
Slat fences are another favorite when it comes to hiding an air conditioner unit outside. It's very easy to make one over the course of a few hours on the weekend with a few supplies from your local home hardware store.
#6. Lattice Fence
If the slat design is a bit too basic for you, consider a lattice fence, which offers a bit more visual intrigue. You'll probably want to purchase this type of fence rather than build it yourself unless you're particularly crafty.
#7. Smart Air Conditioner Screen
A smart air conditioner screen has widely-spaced slats on one side to ensure proper airflow and easy access. Using this type of design, you can get away with a less-open front-facing side.
#8. Willow Panels
Willow panels are another type of screen you can use to hide your central air conditioner. A rustic charm helps them blend in with the natural elements in your backyard. They look especially nice alongside any shrubbery that might be to the rear of your air conditioner.
#9. Create A Little 'House'
If you want to get really creative, create a wooden 'house' to camouflage your air conditioning unit. Pro tip: build the house in such a way that you can lift it up and away from the air conditioner when it's time for a service. This will be much more efficient than trying to build a door that opens to allow for access.
#10. Use A Pallet Planter
Unlike many of the other types of fencing we've mentioned so far, A pallet gives you enough space to actually plant some flowers and other vegetation to help further disguise your air conditioner. Paint the pallet some interesting colors if you don't like the rustic look of its 'raw' form.
#11. Cement Block Planter Wall
Stack a few cement breezeblocks around your air conditioner and place plants (or other decorative elements) within the gaps.
#12. Patio Paver Wall
If you're not a fan of woodwork, place patio paver stones around your air conditioning unit. You can keep it basic with a square arrangement or create something curved for a more interesting look. Maintaining good clearance around the unit is especially key here since you won't be able to remove the stones once they've been cemented in place.
#13. Potted Plants
If you live in an area with a climate hospitable to keeping plants outside year-round, take advantage of it! The upside with potted plants is that you can move them out of place when needed, unlike with shrubs.
How To Hide A Window Air Conditioner Outside And Inside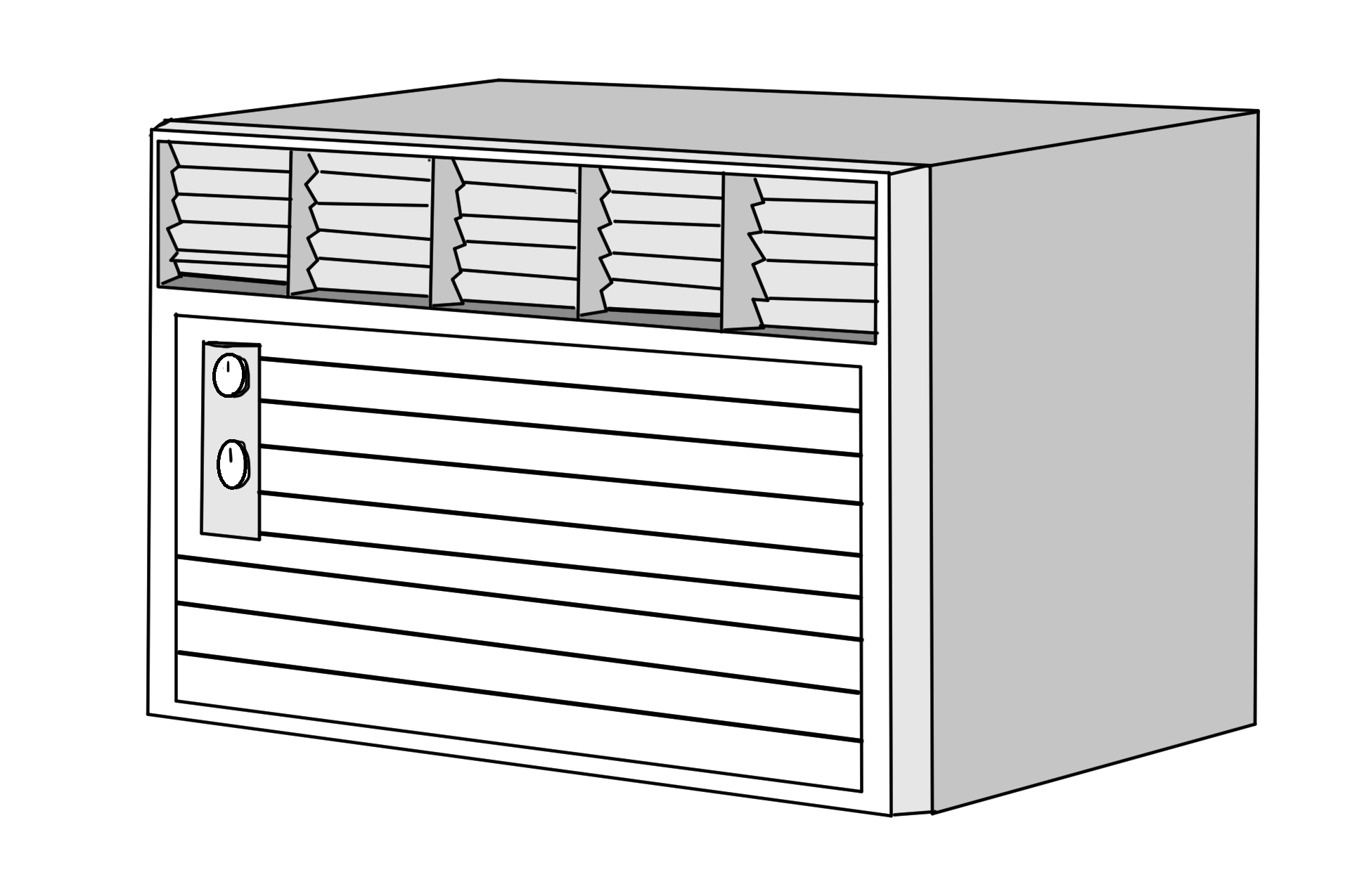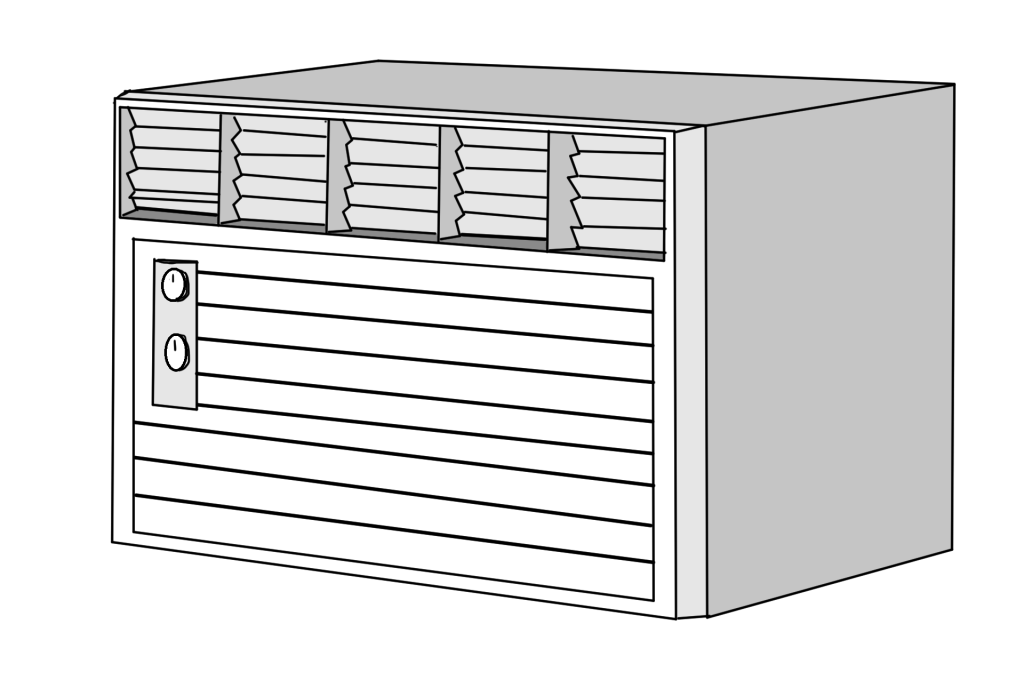 You're a bit more limited as far as what you can do given the awkward (at least from a camouflage perspective) positioning of window air conditioners. Nonetheless, you'll never see us shying away from a challenge at American Home Water and Air, so here goes!
#1. Use A Flower Box
Encase your window air conditioner in a flower box with enough gaps to allow for easy airflow. You can add some flowers on top to disguise it further. Fix the flower box to the wall around your windowsill with screws.
#2. Use An Iron Trellis To Create A Mock Balcony
You can invoke the aesthetics of a luxurious European-style balcony by enclosing your air conditioner in an iron trellis on all sides but the top.
#3. Purchase An Actual Cover
If you only use your air conditioner for half of the year, you can completely cover it during the colder months using one of the many canvas sleeves on the market. Go for a patterned option if you don't like the "blocky thing sticking out of my window" look.
#4. Create A Mini Garden Atop Your Window Air Conditioner
If your air conditioner's manual doesn't discourage placing anything on top, create a little garden (perhaps even complete with miniature gnomes).
#5. Wall Art
Window air conditions can be an eyesore inside your home, too. One solution is to use breathable wall art, i.e. a piece with enough holes or slats that allow airflow. Position it creatively over the part of your window that contains the air conditioner.
#6. Use Shutters
Shutters are a very inconspicuous way to hide your window air conditioner from the inside. Just make sure you get the measurements right so that airflow lines up with the slats in the shutters.
#7. Create A Faux Cabinet
You can create a cabinet that goes around your air conditioner and can be opened when it's in use. When the air conditioner is switched off, simply close the cabinet to cover it up.
Frequently Asked Questions
Can you cover an air conditioning unit?
You can cover an air conditioner while it's not in use (i.e. during the colder months). However, this may trap moisture, which encourages mold growth. If you're looking for ways to hide your air conditioner while it's in use, choose one of the methods we outlined above while keeping the clearance guidelines in mind.
How can I hide my split AC pipes?
Many people box their split AC pipes into a beam or the drywall above doors and windows.
How do you hide a split air conditioner?
The exterior portion of a split air conditioner can be hidden much like you would a central air conditioner. Those external cabinets function similarly. As for the interior units, most people hide them either by creating a cabinet or adding enough distractions on the wall nearby.
Related Posts